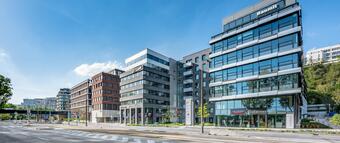 "We are excited that ERSTE Realitná Renta fund's first real estate investment is the high-quality and unique Zuckermandel project. Investors in our fund over the past 18 months have therefore become co-owners of one of the best office buildings in Slovakia," said Günther Mandl, chairman of the board of directors of Slovenská sporiteľňa Asset Management.
Zuckermandel is a premium project with a lucrative location on the Danube embankment below Bratislava Castle. Completed in 2017, it won recognition including the CIJ Best Offices award for best office space. For meeting sustainable construction standards, the building received a BREEAM Excellent rating - a certificate that recognises buildings' environmental quality and performance. The transaction comprises office and retail space with a 16,800 m2 leasable area. The project has long been fully occupied with renown tenants including 365.bank, EY, Baumit, KIWI.COM, Novartis, Relevans, Havel & Partners, and Maple & Fish.
"The combination of top-quality build and outstanding location - the attraction of which will further increase after Vydrice's completion - creates the preconditions for the long-term profit and value growth of our clients' investments. A key aspect is that Zuckermandel is just the beginning - we've already started other attractive investments. ERSTE Realitná Renta fund is therefore developing from the passive-investment initial phase towards being an active property owner and manager," adds Mandl.
"Since 2017, the Zuckermandel district has become an attractive location for life and business. The project combines residential, work, retail, services, and restaurants with spacious public areas that reflect the area's history and embraces a lively city boulevard vibe. This returned life to the former Bratislava Podhradie area, and acts as a welcome link between the Old Town and Danube embankment. Zuckermandel confirms that for the city's development and to promote life quality, fully functional neighbourhoods are necessary. Project success is ultimately decided by project users - those there 24 hours a day, living, working, or relaxing," describes Pavel Pelikán, JTRE's executive director.
"We're delighted to have brought a new institutional investor to the Slovak real estate market. This transaction once again confirms that investors have on-going interest in quality office real estate in the best locations, fully occupied, and with long leases. Although the transaction started at year-end 2020, the achieved yield rate set a new market record (prime yield) for office real estate in Slovakia," said Ľubor Procházka, sales director at real estate consulting company CBRE Slovensko, which represented the seller in the transaction.
Source:// J&T Real Estate