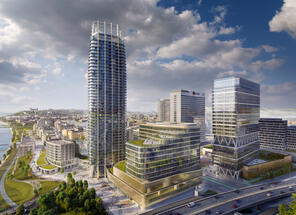 The construction of the following office projects is also planned for 2021:
Sky Park (Offices and Jurkovič Heating Plant)
Sky Park will be a unique combination of world-class modern architecture, sophisticated urban planning and the national cultural monument of the 20th century.
Sky Park Offices
It consists of almost 31 thousand m2 of office space, has a LEED green certificate, 600 parking spaces, there are 35,000 m2 of park in the immediate vicinity and you will find shops on another 7,000 m2. In addition, there will be several private terraces for businesses in Sky Park. Companies and their employees can use the public park and roof terrace as well as private greenery.
The part of the town where the building is being built was in the past an industrial part, where Jurkovič's heating plant, the Apollo refinery, the Kablo cable factories and the textile factory called "Klingerka" were also located. Due to its former industrial importance, this area on the eastern border of the city of Bratislava was repeatedly targeted during the Second World War and remained largely unused after the war, unless the current construction began on the site. Currently, it is the area of ​​the wider city center.

Jurkovič's heating plant
It combines elements of various architectural styles, including art nouveau, modernism and functionalism. The building of the Jurkovič heating plant is also a national cultural monument. With an area of ​​3,500 m2, it will be a unique place that combines cultural and artistic events, workshops, markets, a café, a restaurant and shared, ie coworking workspaces.
Klingerka Offices
It is a boutique 11-storey office building with an area of ​​10 thousand m2, is built in the CBD (Central Business District) location near important buildings and is characterized by quality, quiet location, peace and intimacy. Klingerka offices have a green Breeam Excellent certificate with 238 parking spaces.
Galvaniho BC V.
It is the most elegant building in the locality on Galvaniho street. The fifth continuation of a series of office buildings on the outskirts of Ružinov, close to the highway, the airport and the Avion-IKEA shopping area. There will be an architecturally distinctive lobby with an atrium, completed with greenery. Almost 16,000 m2 of offices and approximately 1.3,000 m2 of retail space will be built in the administrative building of Galvani BC V.

In the years 2020 - 2021, the following A-class office buildings were added in Bratislava:

Source: // Cushman & Wakefied