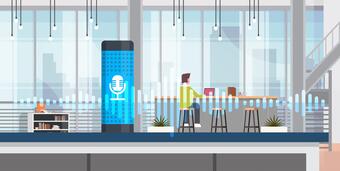 So, let's put the debate on the importance of the office to one side and address a more interesting topic: what exactly will the future office need to look like?
It must make the most out of tech investments
The entire business world is acutely aware how the pandemic accelerated digital transformation efforts than anyone could have predicted.
Granted, for most it was a scramble to adapt at the outset. But many sectors, such as the print-heavy legal profession, have now experienced the power of digital workplace tools. Some have even adopted cloud-based document solutions, such as Google Drive or Office 365, for the first time. This may not seem particularly revolutionary to those businesses who are streets ahead in their respective digital journey. But it does constitute a huge shift in operations to companies that are just starting out.
But it should not stop there. The real power of these programmes becomes obvious when you integrate them into the office space through devices such as smart printers and tablets.
The office of the future should be effortless – where information is instantly accessible and document workflows automated wherever employees are. Palm and fingerprint biometric tools could unlock contactless printing on cloud-enabled multifunction printers. Not only will this keep information more secure, but it'll also save buckets of time by making the hardcopy to digital conversion easier than ever.
Physical spaces should be smart and intuitive
Larger companies with more office space may already be familiar with cloud-based workflow tools. But they may not have yet explored what workplace management solutions have to offer.
While the idea of sticking digital displays above the coffee machine might seem odd at first, the impact on internal communication cannot be underestimated. Digital signs are interactive, dynamic ways of drawing attention to messages instantly. If you've ever clashed with a colleague over a room booking, then you'll understand why decent integrated room booking software is a must for reducing employee frustrations, too.
But why stop there? Tools like RICOH Spaces – a cloud-powered workplace enhancement platform – can make every bit of your workplace, from desk bookings to wayfinding, digital. These tools have plenty of room to evolve in the future, too. Will we one day see facial recognition technology being used to manage access to rooms? Only time will tell.
Environments must spur collaboration, safely
Many companies now use collaboration tools as standard for remote working. But for businesses that want to improve teamwork and creativity, these tools also need to be integrated into the four walls of the office.
Voice, video, and display tools such as interactive whiteboards and projectors go the extra mile in creating a seamless digital working experience – enabling great ideas to flow easily between the workplace, home offices and anywhere else employees choose to work. This is the rationale behind our Smart Collaboration Rooms and Reactiv SUITE solutions. One day, we may even see hologram representation augment these tools.
Despite this tantalising futuristic view, ensuring spaces are healthy and safe to work in will always be the prerequisite of any office. For example, remote and non-contact thermal imaging cameras have new importance in a post-COVID-19 world. They can help companies better manage the risk of collaborative environments and support employee welfare by identifying those who may be unwell.
Remember to be selective and invest wisely
The key to building the ideal future office is investing in solutions that maximise productivity while minimising wasted space. It's also about making room for exciting innovations that the future may bring. But how this pans out in reality will depend on a lot of different factors, including business sector and company size – as well as how digitally forward a company is already.
There's no one-size-fits-all when it comes to the office of the future; but getting it right is critical for helping employees to work their best, wherever they are.
Source:// David Mills - LinkedIN