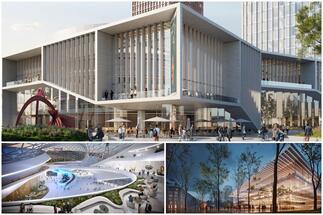 The decision on where the National Cultural and Congress Center (NKKC) could stand in Bratislava in the future should be made in mid-August. This was stated for the SITA agency by the statutory representative of the civic association NKKC Miroslav Križan.
"The current situation is that we have been commissioned by a government resolution to prepare a feasibility study for this project, which the government will then assess," he said, adding that the study was currently being finalized and submitted by August 15.
ASSESSMENT BY THE MINISTRY
Subsequently, by the end of September, the Value for Money Department (ÚHP) of the Ministry of Finance of the Slovak Republic will assess the project and the government will decide whether to support the NKKC financially as well.
In the case of a quality project with a high value, the state promised support of up to 60 million euros. The association is currently assessing three final plans, from which it will select the one that most closely approximates the requirements of the NKKC.
The first is Nový Istropolis from Immocap, the second is Nové Lido from JTRE and the third is the center in the Incheba exhibition area.
SUITABLE LAND FOR CONSTRUCTION
The initiative initially addressed 13 entities that had suitable land for the construction of the NKKC, including the Capital City of the Slovak Republic, Bratislava, and the church.
"Eight subjects showed interest, in the end three remained," Križan explained, adding that not every applicant was able to meet the demanding requirements that are placed on the future NKKC.
For the purpose of preparing the feasibility study, the civic association has set up a working group composed of independent experts to assist it in preparing the study so that it meets all the necessary requirements. We will find out the result in the coming days.