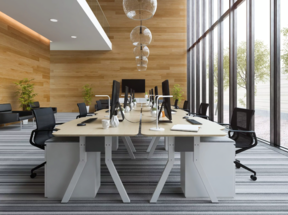 In terms of ownership structure, as in the previous quarter, approximately 4% of buildings are state-owned and another 12% are buildings that are owned and fully occupied by the same entity. The total stock for commercial use remains at 84% of the total modern office space in Bratislava (1.7 million m2).

GREEN BUILDINGS
In total, we have almost 723,302 m2 of office space in Bratislava with a valid green/sustainable building certificate. This is 36% of the total volume of office space in Bratislava, or 40 out of 274 buildings. Of the certified offer, 60% has BREEAM, 2.5% a combination of BREEAM/WELL GOLD and 37.5% LEED. Only two buildings in Bratislava have the highest BREEAM Outstanding rating - Twin City Tower and Pradiareň 1900. In the case of LEED Platinum, it is the Ein Park Offices building.
TRANSACTIONS ON THE OFFICE SPACE MARKET (OFFICE TAKE-UP)
Rental transactions reached an area of 51,684 m2 in the second quarter of 2023, which represents a 14% increase compared to the previous quarter. In a year-on-year comparison, the volume of leased areas increased by 85%.
Renegotiations in the volume of 45% and pre-leases in the volume of 27% made up the most increases. New leases accounted for 21% and expansions were at the level of 7%.