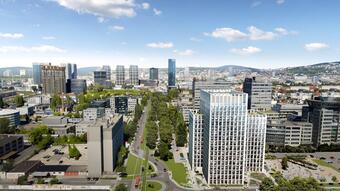 The project, currently in the preparatory process with construction scheduled for autumn 2021, already has over 50% occupancy, thanks to which it has received full construction and investment financing, the developer explains.
The project will bring to the newly emerging business district of Bratislava a leasable area of 25,700 square metres, of which approximately 25,000 sqm will be dedicated to office purposes and 700 sqm will be reserved for shops and services.
Immocap has been operating in the market for more than 20 years. Its first development activities included the construction of three business centres in the administrative zone on Prievozská and Plynárenská Street in Bratislava - Bratislava Business Center BBC III, IV and V with a total area of more than 60,000 sqm. Its key projects within Bratislava include the multifunctional Centrum complex, which was built on the site of a neglected spa, and the renovation of the Trnavské mýto underpass. Immocap's flagship project is the New Istropolis district with the vision of a modern cultural and congress centre.