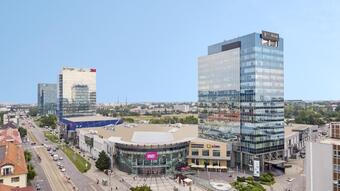 The Immofinanz commercial real estate group also has its intentions in this regard. It focuses on the office and retail segment in the Visegrad Four countries, Germany, Austria and Romania. The main activity is the management and construction of real estate. Within its framework, it also implements Stop Shop (retail), Vivo! (retail) and myhive (offices).
Activities in the regions
According to the regional manager for Slovakia, Adrián Bódis, companies in Slovakia need to understand the environmental impacts of their business and take measures to improve. That is why they have set sustainability goals and incorporated them into ESG's corporate strategy.
In all sixteen Stop shop parks, public lighting was replaced by LED lamps, which operate on the so-called "Artificial midnight". The lights dim gradually at certain intervals until they switch off.
The shopping park in Liptovský Mikuláš recently obtained energy certificate A, and photovoltaic panels were recently installed on the roof in Bratislava-Rača.
Photovoltaics can cover part of its own energy consumption and be an integral part of the technical equipment of buildings, i. j. heating, cooling, water heating, ventilation or heat recovery systems.
They have reduced energy intensity
The modernized lighting system in Immofinanz shopping centers in Slovakia consumes 57 percent less electricity compared to the original system. Energy-saving LED technology relieves the environment of almost one hundred kilograms of carbon dioxide emissions per year. This is the volume of emissions that must be absorbed by up to about 5,000 adult trees, said A. Bódis.
Last year, the portfolio of the Vivo !, Stop shop and myhive brands reduced energy consumption by 9.4 percent and water consumption by 8.6 percent.
The Vajnorská myhive buildings in Bratislava recently received the international BREEAM certificate. This proves that their operation is environmentally friendly. In addition, in 2019 the company also received the EPRA Sustainability Best Practices Recommendations SILVER award.
Immofinz's real estate portfolio is worth approximately 5.1 billion euros and includes approximately 220 properties. The company is listed on the Vienna and Warsaw stock exchanges.