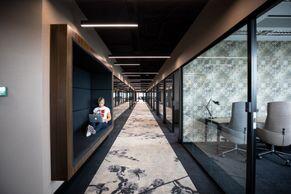 Governments around the world have issued bans or recommendations not to leave home in various forms, and the global pandemic has radically changed the way people work. Millions have moved from the office to the living room and video conferences are held instead of meetings, Reuters reported.
While quarantine measures have begun to be released in a number of places, offices are changing to minimize the risk of transmission and prevent a second wave of coronavirus infection, which the US Center for Disease Control and Prevention could hit hard in the US next winter.
International real estate company Cushman & Wakefield, which oversaw the return of nearly a million people to offices in China, has come up with a workplace concept to help comply with security measures against infection in office life. This concept uses the rule of social distance to six feet, ie 180 centimeters, which is a perimeter around work desks, which should remain empty.
The prototype in the offices of the company's headquarters in Amsterdam shows clients how their premises can be modified. "Ordinary things like a colored rug, or a less sophisticated and cheaper method of taping floor space, are enough for everyone to know where it's 180 inches from the desk," said Bill Knightly, a member of a group that addresses company issues. covidem-19.
"It's visible at first glance. In some cases, we need to install plexiglass or another type of screen against coughing to give people extra protection," he added.
For employees who are accustomed to social interactions in modern offices based on the concept of open space, and to tables that are shared by more employees, it can be difficult to get used to these changes, says psychologist Brad Bell, who studies the impact teleworking.
"We've found that when an employee experiences or perceives their isolation, it has a negative impact on a number of things, including their satisfaction with their work," said Bell, a professor of human resources studies at Cornell University. "I think it can definitely lead to stress and disturb the feeling of well-being."
But now employers are finding out the benefits of teleworking, which they had to switch to during the pandemic, Bell added. And some companies said he could switch to this model permanently.
"My conversations with various companies show that employees stay productive. They do their job, they do work. In many ways, it's a difficult time for everyone, but people are doing much better than many companies have expected," Bell said.
According to Knightley, however, the demand for office space that will allow for social distance will increase. "You ask, do we think that everyone who can work from home will continue to do so? No, not at this stage yet. There is no general consensus yet," he added.
Source: // ČTK