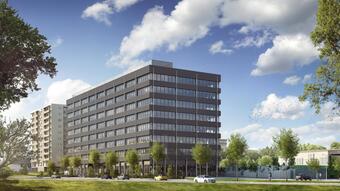 Increased interest in quality premises
The developer, the Žilina company Reinoo, completed the Poštová 1 building in the high BREEM Gold standard in the zone in 2019. This sustainable building has 10,600 square meters (m2) of office space, over 2,300 m2 of retail space and 265 parking spaces. Its dominant feature is a covered atrium with a pond and exotic trees.
"Currently, we are seeing increased interest in administrative premises in Žilina, especially in buildings of the highest quality," the developer for TREND explained the situation on the commercial real estate market. In order to be able to respond to demand, it needs to complete the planned buildings in the entire Business Zone Poštová in the wider city center.
The current interest of potential tenants already exceeds the capacity of the Obchodná 1 building, which is under construction. The developer's customers are creditworthy domestic and international companies. Quality certificates such as LEED and WELL are clearly the indicators that guide and require them.
Roof zone on the building
The Poštová building is followed by work on the Obchodná I building in a modern, sustainable trend of construction and operation.
The building will have a roof zone with space for various events. In its vicinity there is a bus stop, a connection to the bike path and in it, for example, a room for cyclists and chargers for electric cars. As part of ecological measures, the building will measure water and air quality, install acoustic ceilings and intelligent building management.
The expected completion date is at the turn of 2022/2023. The goal is to obtain the prestigious LEED Platinum and WELL Platinum certificates.
The developer is already preparing projects for two more buildings, the administrative Obchodná 2 and the parking garage. Upon completion, there will be more than 35,000 m2 of leasable area in the Poštová Business Zone in Žilina.
Reducing energy costs
Reinoo from Žilina also had to respond to a challenge recently posed by many operators of coronacris office buildings. His primary goal was to take measures to prevent the spread of the infection, he told the topic in June for TREND. He set the air conditioning system for sufficient air exchange in occupied offices so that only fresh air was supplied. The cleaning and filter replacement intervals for air handling units and fan coil units have doubled.
The second goal was to reduce the consumption of buildings in their so-called. stand by mode. The result has been a reduction in energy costs so that increased operating costs do not have to be passed on to clients. In the case of operations affected by the pandemic, which had to be compulsorily closed for a long time, he agreed with the tenants to forgive part of the lease, to defer its payment and on repayment schedules.
This regional developer also has in its portfolio the construction of several residential and office projects in Žilina and Púchov.