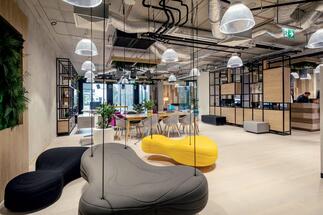 Mutations are a risk
However, in its current report, it also mentions the key risks for the economy and commercial real estate for the next 12 months. These include metal mutations, rising global debt and the possibility of long-term high inflation.
Nevertheless, CBRE anticipates that increased demand for real estate, government incentives and the reopening of operations will support countries' economies so much that it will suppress risk factors in the background.
CBRE predictions for real estate
Investments
The recovery in global real estate investment will be most visible in the second half of this year, and subsequently in 2022. It is expected to increase by 23 percent this year. It also predicts that capital values ​​will return to pre-pandemic levels, which may lead to higher total returns than in 2019.
Office occupancy
This year, the vacancy rate for office space will increase, but in 2022 it should fall again. Global rental activity is expected to increase by 10 percent this year. In the Americas and the Europe, Middle East and Africa (EMEA) region, it will be driven mainly by business areas such as the humanities, industrial production, energy and technology. In Asia and the Pacific, leasing activity will be driven mainly by finance, insurance and technology.
Office rental
In countries with low office occupancy, employees are expected to visit more often in the second half of the year. However, restrictions and measures related to the increase in positive cases under the delta option are also taken into account. While the US office portfolio is declining, domestic companies in Asia Pacific expect it to grow. Within the EMEA region, experts expect the portfolio of offices to remain stable. Demand for flexible office space should also increase.
Industry and logistics
This sector will be the strongest this year. Retail will increase its stocks to prevent crises. Several companies outsource their supply chain activities, which means that third-party logistics companies will have a larger share of the leasing activity.
Retail
The recovery will be uneven, with companies investing the most in luxury and services. Retailers will continue to invest in sales promotion programs in the form of "order online and pick up at the store." CBRE expects that new leases will already contain more detailed clauses. These will give retailers more options in case of unpredictable or serious reactions.
Rental housing
Rental housing will become a leading segment of global investment assets in the near future. The vacancy rate will fall next year, rents will rise and the capitalization rate will fall. According to CBRE, most US markets in the second quarter of 2022 will exceed pre-crisis rents. End of box
SOURCE: CBRE
CBRE's calculations show that GDP will also grow - most in the Americas, Asia and the Pacific. At the same time, GDP growth was highest in the USA (7.1 percent) and China (8.2 percent). In the case of Europe, GDP should grow the most in 2022.
On a global scale, the rental housing sector, as well as industrial and logistics real estate, have already recovered from the recent economic downturn. In the case of office, retail and hotel properties, there will be a recovery in the next two years.
Concerns about inflation
Despite the recovery in the global market, some sectors will take several years to reach pre-crisis levels, said Richard Barkham, global chief economist and head of CBRE research in the United States, saying inflation fears are likely to cause some market volatility.
However, he does not expect central banks to be forced to raise interest rates in the coming year. "At the end of the day, this will not only support economic growth for the next two years, but will also create a positive environment for commercial real estate," he added.
Investment in commercial real estate
In the first half of 2021, investment activity in commercial real estate reached almost 500 million euros. This is historically the largest volume to date, said Ľubor Procházka, Sales Director of CBRE Slovakia, about the situation in Slovakia.
According to him, this trend will continue in the coming months. Investments in office and logistics or industrial real estate should predominate. It also expects a further reduction in capitalization returns in these segments in the short term.