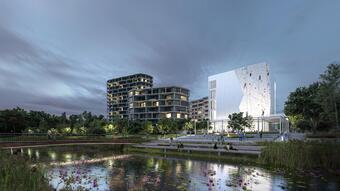 New cycling routes
According to the developer Petržalka City, the basis of the first stage of the project is the average density of buildings, short walking distances, the predominance of green mobility over conventional traffic. They also want to complete cycling routes with connections to neighboring locations, so that the need for car transport is as small as possible.
Tram transport will be key
The project is published on the Enviroportal as part of the environmental impact assessment. It concerns the area north of Romanova Street, from the west it is delimited by the flow of the Croatian branch and from the east by the planned extension of the tram line - in the future a possible main development axis of Petržalka.
The area is currently not served by public transport, but there is a proposed tram line with a Gessay stop, which is currently in the tender phase of the construction contractor. Bus transport will not pass directly through the area, the nearest stops are on Romanova Street near the proposed area within walking distance.
The first stage of Petržalka City
Area of ​​the solved area: 14,917 m2
Total built-up area: 3,049.2 m2
Maximum number of floors above ground: 15
Maximum number of underground floors: 4
Total number of dwellings and inhabitants: 199 dwellings and 542 inhabitants
Total above-ground gross floor area
- of which housing 18,722 m2
- of which civic amenities: 8 369 m2
Total number of parking spaces: 469
SOURCE: Petržalka City - 1st stage, Enviroportal
Maximum 15 floors
In the first stage, the developer is to build one two-block and three buildings, one-room to six-room apartments, including maisonettes, service areas, shops, administration, fitness and sports center.
The tallest building with 15 floors is to be an apartment building C1 and the lowest multifunctional building C2 with six floors. The interesting thing about this building is that it considers sports civic amenities. There should be an outdoor climbing wall on the south-eastern part of the facade. Another multifunctional building B1 is to have nine floors and the residential building C3 seven floors.
Smaller office space
While the housing function will predominate in the south of the B1 unit, the administrative part will be in the north. Office space is planned on the third to ninth floors in the northern block. The offices are designed as smaller ones with their own facilities. The proposal is based on the trend of phasing out large corporate premises also for the coronavirus pandemic and the associated measures.
Work on multifunctional and residential buildings in Phase 1 should start in the fourth quarter of next year and end in 2025. The estimated construction costs are EUR 44 million.