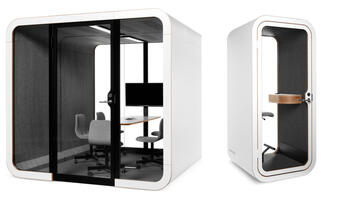 Dissatisfaction is often behind a business idea. "I had a very noisy boss in a software company. When he was on the phone, he was running around the office with bluetooth headsets and disturbing everyone. I couldn't concentrate on work, so we told him to go elsewhere," says Samu Hällfors, who in Monaco EY Entrepreneur of the Year represented Finland.
"Once he replied: If you don't like it, build me a phone booth! A quarter of an hour later, my colleague and I decided to quit and start building 'phone booths,'" Hällfors continues. That was less than nine years ago.
Today, the Framer company, which they founded at the time, is one of the world's leaders in the production of soundproof cells for office spaces. But the beginnings were not easy. "We thought it would work on its own. Three walls, one door, a roof and a floor. But the first booth wasn't really soundproof and had terrible ventilation, it was unbearable. We gradually started to improve it," says Framer.
Workplace turmoil - an eternal problem
He suspected that the demand for such a product would be high. "When you ask what's bothering office workers, about 60 percent of people tell you that the lack of 'sound' privacy is true across cultures," explains Hällfors.

Source: Reprofoto, frameryacoustics.com
They delivered the first cell to a former employer. At first they sold mainly in Finland, today Framer exports more than 90 percent of its production to seventy countries. The key market is the United States, where about 40 percent of exports go.
Among the clients are mainly technology companies such as Microsoft or Nvidia. But McDonald's, for example. Cells are used mainly in offices, in factories they serve as teaching rooms if a screen is placed in them.
The current version is said to be very different from the first one. "It's hard to combine sound blocking and good ventilation. You have to have holes where you get air in, but at the same time sound escapes. That's higher math," says Hällfors.
From a garage company to a global leader
"You also have to be careful of the material, it must not smell, because it would be especially smelly in a small space. So it is necessary to use natural materials. The frame of our sheds is made of birch plywood. "He adds.

Source: Reprofoto, frameryacoustics.com
According to him, the average number of employees per cell depends on the type of work. There are companies in Finland with one in ten employees, but there are also companies with one in a hundred people. "On average, it's one booth for thirty people," says the businessman.
From the garage company in Tampere, Framer has become a global leader in its category, which expects a turnover of $ 74 million (approximately 65 million euros) for this year. It employs 250 people in Finland.
"We still have room to expand, the room for further growth is huge. In Finland, booths make up about 10 percent of the entire furniture business, but in other countries it is barely half of the share. Somewhere much less," he says.
Is there space despite the fact that in newly emerging office buildings, architects are already thinking of isolated spaces? "It's a competition for us, of course. When we started, there was nothing like that. But on the other hand, built-in spaces are more expensive and you can't move them like our products," says Hällfors.

Source: Reprofoto, frameryacoustics.com
However, he is not too worried about the competition. "There are already at least 90 companies doing something similar and creating more. I'm not too scared of those that directly copy our design. It's really hard to create a good product. So far, we also escape those who have their own ideas and their own design," he adds.
Source: // HNonline