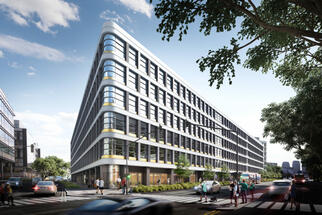 The building at the beginning of the Nové Niva zone is currently under construction. Upon completion, the world's largest technology employer will become its main tenant, occupying almost 30,000 square meters out of a total of 48,000. The transaction is also a significant step forward for the entire commercial real estate market.
Workspace as a service
The pioneer in the field of computer technology plans to use several services in the New Apollo, which will work in perfect harmony in the project together with the design of the building itself.
The new Apollo offers the largest leasable floor space in the entire region of Central and Eastern Europe - 7,000 square meters per floor, where Qubes serviced workspaces will also find their place. Qubes from the HB Reavis workshop provides short- to medium-term leases, giving the technology giant the opportunity to use the space flexibly and gain maximum efficiency, in which the concept of the New Apollo itself lies.
One of the largest IT companies also plans to use the More platform. It serves to effectively manage the building but also helps employees take advantage of other benefits that the space itself offers. As part of the More service, they will have access to concierge and bike-sharing services, or choose from various activities focused on wellbeing and a healthy lifestyle.

The digital experience in the New Apollo will be supported by another key service from the HB Reavis - Symbiosy workshop. The technology platform serves to support well-being and a healthy lifestyle for employees. Its purpose is to improve collaboration through smart technologies. These support the efficiency and, as a result, the productivity of its users.
Healthy building = healthy employees
The spacious entrance lobby in the New Apollo will be complemented by greenery. Thanks to it, together with other elements to support wellbeing, the project is applying for WELL certification. In addition, at every point in the construction, as well as in the design and operation of the building, HB Reavis also takes into account sustainability and ecology, thus applying for BREEAM certification with the project.
The new Apollo has the potential to bring benefits to the local community, thanks to the availability of HubHub coworking, which is located in the Nové Nivy zone. The project envisages a wide range of retail spaces and services, including a cycling background with the Bikehub bicycle café. The support of alternative transport is in the DNA of the New Apollo project.
The completion of the New Apollo is planned for 2023 with a total leasable area of ​​almost 48,000 square meters on seven floors. The British architectural studio Make Architects, in cooperation with the local studio Siebert + Talaš, is behind the design of the project.
Source:// HB Reavis