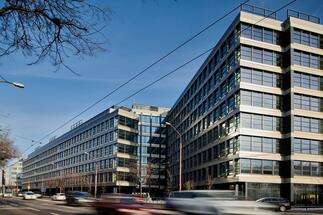 They also refer to it as the imaginary eastern gate of the new center of Bratislava. The design of the prestigious London studio MAKE Architects and the Slovak studio Siebert + Talaš filled the space where the infamous Apollo Business Center used to stand. However, it had to go to the ground due to bad statics.
The new Apollo Nivy project brought almost 8,000 square meters per floor to the market. Together, it offers more than 55,000 square meters of leasable space on eight floors, which puts the work of developer HB Reavis in a leading position among office buildings in the CEE region. Up to 5 thousand people can work here.
Main entrance of New Apollo. | Source: Editorial office
The building is also proud of several superlatives, which reflect its recent completion, but also the fact that HB Reavis was able to draw on his experience from foreign projects in London, Warsaw and Berlin during its construction. This is how the extraordinary Cyklo Hub got into Nové Apollo, which provides storage space for more than 200 employee bicycles, which is followed by spacious underground locker rooms.
When choosing the location of Cyklo Hub, the designers were not at all sure of how good a move it was. Over time, however, it turns out that even this convenience of the entire complex contributes to the increased interest of tenants.
The facade is also characterized by golden colors. | Source: Editorial office
In addition to practical features, employees of companies based in Nové Apollo can also enjoy a selection of cafes that are connected to Cyklo Hub. However, there will also be other retail establishments in the premises of the building, which will thus provide all basic services.
The path to them leads through one of the landmarks of the entire project. The inner atrium takes over all the tasks of the relaxation area, which is helped by plenty of overgrown greenery, a place to sit and a water feature. The entire space is also excellently soundproofed from the busy Prievozská Street. The Apollo Nivy project also aspires to the WellBuilding Standard certification and the BREEAM certificate attesting to sustainable construction.
Inner atrium. | Source: Editorial office
The great potential of the new administrative complex was used mainly by the majority tenant and the largest technology employer in the world - IBM. The one in Nové Apollo will take up over 30,000 square meters, which offers the potential for 3,000 jobs. Even the changes in the market of administrative spaces did not weaken the interest and the latest completed project of HB Reavis. More than two thirds of the premises are already occupied.