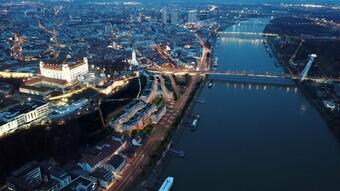 They will start building from the Fishing Guild
In the four low-rise apartment buildings in the first stage, there will be a total of 207 apartments of a high standard. The buildings will include a ground floor for commercial establishments, restaurants and cafes. The office space will be in one building located closest to the Army General Ludvík Svoboda's Embankment.
Construction of the first stage will begin in the west of the Fishermen's Guild and end in the east at the Water Tower. The Water Tower should become the central point and cultural and social heart of the whole project in the future.
"We regularly communicate with the Bratislava City Hall about the restoration of the National Cultural Monument of the Water Tower. After signing the memorandum, in which we committed ourselves to work as sensitively as possible with the historical value of Vydrice, we are preparing an architectural competition with the city, the winner of which will participate in the future of the Water Tower, "said Lucron CEO Zoltán Müller. The investor expects the completion of the first stage during the year 2024.
Vydrica was first bought by Avant
The city of Bratislava decided to sell part of Podhradia by the Danube about 20 years ago. J&T Global acquired a nearly three-hectare Zuckermandel for 253 million Slovak crowns and the archery company Avant paid 202 million Slovak crowns for Vydrica.
Subsequently, the city and investors announced a competition for an urban study of the Podhradie zone. It was to be the basis for the zoning plan of the zone, which, however, allowed a larger scope of construction.
Avant wanted to build flats and offices in Vydrice on a floor area of ​​75,000 m2, approximately in the same proportion. Shops and services were to be established on the street floor. Two years later, she sold the project to Urbicom Invest.