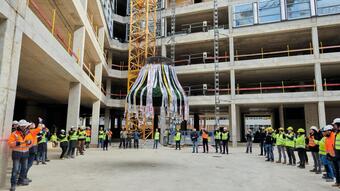 The new Apollo has recently reached the level of rough construction, which is celebrated in construction by placing the so-called glajchy on the roof. The project thus enters into pre-finalization work, which is carried out in the spirit of installing facades and internal wiring, in the second half of this year the building will get its final outlines.
Wellbeing in the first place
The new Apollo will provide the largest floor area in the entire region of Central and Eastern Europe - more than 7,000 square meters per floor, which is almost three times more than is standard today. Thanks to the larger space, it is possible to lay out the office exactly according to your needs and each work zone will get enough space. At the same time, more places to work support wellbeing employees, ie their healthy lifestyle, because it supports them on the move and provides sufficient privacy for individual activities.
Elements of wellbeing can also be found in the entrance lobby with elements of greenery or art, but the mental well-being of the employees will also be supported by a spacious inner atrium with a water element. In the future, smaller events may take place in the atrium, place food stalls or it will be possible to just sit in peace with colleagues over a coffee.
A matter of course for HB Reavis is the certification of the building, both in the WELL system, which takes into account the mental and physical health of employees, and in the BREEAM system, which in turn examines minimizing the building's environmental impact on the environment and the highest possible standards.
BikeHub with connection to bike paths
BikeHub will bring all basic services on the ground floor of the project, including a small service, a bicycle washbasin and a bicycle café with a direct connection to the cycle route. After completion in 2023, one of the largest IT companies in the world, IBM, will move to New Apollo. It will lease an area of ​​more than 30,000 square meters out of almost 48,000, so it will be its majority tenant. Another approximately 4,000 square meters will belong to retail operations, which will fill the ground floor and serve the general public. The British architectural studio Make Architects is behind the design of the building in cooperation with the local studio Siebert + Talaš.
Nové Apollo is part of the Nové Niva zone, a dynamically developing district near the historic center, where you will already find many alternatives for work or private activities, whether in the form of a multifunctional Nivy center or complexes in the area, such as the popular Twin City.