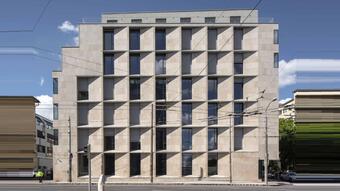 "We are expecting an influx of huge funds from the European Union, which in Slovakia threatens to waste on surface insulation and degradation of the entire building stock. We try to ensure that the funds that go to the construction industry are not spent on quantity but on quality. Quality assurance We are promoting the new thing that will be created in the form of architectural competitions, "said SKA Chairman Ilja Skoček at the press conference.
The number of these competitions is growing every year and SKA strives to have more and more of them.
"The competition seeks quality, finds it and can transform it into a result," he said.
As Oľga Miháliková, the manager of the CE ZA AR award, informed, the motto of the jubilee year is #greenaprearchitecture. She confirmed that 81 works entered the competition, and an international jury chose 30 completed objects from all over Slovakia for inspections.
"Again, it was confirmed how important a symbiosis of three members is for the creation of good architecture - investor, architect, implementer, only when they pull for one rope, a good work is really created," said the chairman of the jury Peter Moravčík.
Family houses
There are four objects nominated in the family houses category:
House for a family with pets in Bratislava (Sadovsky Architects, landscape architecture Laba studio)
House V in Bratislava (authors Martin Skoček, Lucia Miklová, landscape architect Michal Marcinov)
Family house CLT16 in Záhorská Bystrica (studio Molnár-Peráček)
Family house from a century-old manor in Veličná (architect Eliška Turanská).
Apartment houses Kamence, Kysucké Nové Mesto
Apartment houses
The following have advanced to the category of apartment buildings:
Apartment houses Kamence, Stage 1 in Kysucké Nové Mesto (authors Michal Sulo, Miriam Lišková, landscape architects Ján Augustín, Iveta Augustínová)
Roličky houses in Bratislava (cakov + partners).
Interior
In the interior category, three works apply for the prize:
Bratislava apartment N1M (authors benkobenkova)
Interior of the clothing store of the Slovak brand Nehera in Vienna (architects Martin Skoček, Pavol Dobšinský, Michaela Dunajská, Lucia Miklová)
Apartment 1903 in Trnava (architects Kilo / Honč)
Exterior
The winner of the exterior category will be of two parts:
Informal moments in Bratislava (VŠVU team)
Devínska Kobyla lookout tower in Bratislava (authors Tomáš Šebo, Igor Lichý, Emanuel Zatlukaj, Imrich Vaško, Branislav Groch, Aleš Hradecký, Denisa Pavkovček Štastná).
Civil and industrial buildings
Five nominated works are in the category of civil and industrial buildings:
Veterná office building in Nitra (authors GRUP architects)
Likerka in Trenčianske Teplice (Juraj Hubinský atelier, Kuklica Smerek architects)
Pradiárna 1900 in Bratislava (Juraj Almássy, Peter Bouda, Richard Čečetka, Ivan Masár)
Multifunctional house "The Corner" in Bratislava (architects Martin Kusý II., Pavol Paňák, Mária Michalič-Kusá - in the title image to the article)
Private primary school Guliver in Banská Štiavnica (Richard Murgaš, Martin Lepej, Lukáš Cesnak).
Phenomena of architecture
Four works are nominated in the category of architectural phenomena:
Uhrovec Castle - outbuilding (architects Martin Varga, Martin Kvitkovský, Pavol Paulíny)
Restoration and adaptation of an Art Nouveau villa in the Tatras in Nový Smokovec (Juraj Hermann, Beáta Hermannová, Viera Hajasová)
Family house from a hundred-year-old manor in Veličná (second time)
Private primary school Guliver in Banská Štiavnica (second nomination).
The laureates will be met by the public in a live broadcast of RTVS at Dvojka on October 7.