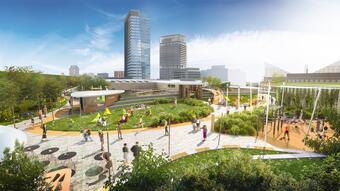 It will work continuously
Once opened, passengers can reach the bus station 24 hours a day, seven days a week. The station premises will be underground, on the first underground floor. Passengers can also go to shops, drugstores or fast food outlets directly on this floor.
"They can use luggage storage, information desks, families with children and changing and breastfeeding rooms. There will also be a chill-out zone with benches, which will offer up to 80 seats with the possibility of charging phones, or a free wifi network throughout the station, "informs the investor on the Nivy complex website. The station will have nine LCD TV panels, a large LED wall airport-type and several self-service touch kiosks to keep the public informed about the arrival and departure of buses.
The station can be reached on foot, by bike or by car. To enter the Niva center by car, it will be necessary to use the main roundabout accessible from Mlynské nivy Street, which will direct the drivers to the car park on the second underground floor. "People will be taken from there by elevator to -1. floor directly to the bus station or by a traveler, "the investor specified. If passengers came on foot, they can enter the Niva center with any entrance from Páričková, Mlynské nivy or Svätoplukková.
They did not publish the exact date
"The bus station can be reached by 14 elevators and two escalators, which are located throughout the center. If they want to get to the station outside the opening hours of the center, they need to use the entrance from Niva Tower, "the developer specified.
The opening of the Niva complex on Mlynské nivy in Bratislava is headed by HB Reavis at the end of the summer, more specifically at the end of the third quarter of this year. He has not yet published the exact date. The project is to be a combination of an international bus terminal, a shopping center, a market and a high-rise office building. The green roof offers a jogging track, exercise or picnic areas, a community garden and children's playgrounds.
Construction began in May 2017 with work on the Niva Tower office building. Remediation work on the site of the old bus station began in October 2017 and was completed in January 2018. The function of the existing bus station is performed by a replacement bus station on Bottova Street in Bratislava. At the same time, the investor built the Mlynské nivy boulevard near the station.