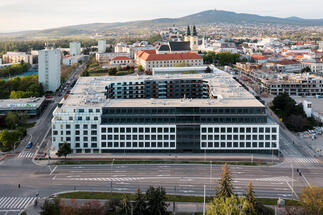 The multifunctional project Tabáň is located in the very center of the city opposite the regional court, only 200 meters from the pedestrian zone. The surrounding buildings are a historic monastery complex of the Piarists with the Church of St. Ladislava, but also objects for housing and civic amenities.
Near the building is the city market and the largest shopping center. The building is delimited by Štúrova, Piaristická and Palánok streets, as well as the newly established Hornotabánska street.
"I am proud of the entire project team, which in the current challenging conditions was able to implement a project of this scale without significant delays. This is the second real estate project in the past period, which we have successfully completed. It is proof that we have a team of skilled people who know how to implement even demanding projects, "says Pavol Kožík, CEO of the Proxenta Group, which is behind the multifunctional project Tabáň.
Compact block
In addition to the location near the center, not only the inner atrium in the park, but also the historically valuable neighborhood increases the attractiveness of the modern building to a high standard. The urban concept of the Tabáň residence follows urban objects in the vicinity. It enters the existing structure in the form of a compact block.
A green atrium is being created in the middle of the complex, which will be complemented by a sidewalk indicating the route of the already defunct Hornotabánská Street. It used to lead across the land where Tabáň now stands. The importance of the central environment conditioned the design of the facades. The representative expression is most pronounced on the office wing oriented to the busy Štúrova street.
Non-residential spaces are distinguished by the construction height and the solution of the respective external surfaces. A more generous approach is used in the division of areas and handling of materials. As a result, an impression of a certain grandeur will be evoked, the importance of entering the building is emphasized by the façade strip with a different design. The residential part, in turn, is characterized by the alternation of several variants of facade fields.