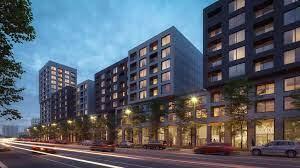 The winner of the architectural competition was the Czech studio, which will complete the design in cooperation with Košice architects in the form of documentation for the territory.
"In the opinion of the jury, the winning design presented the most comprehensive concept of a multifunctional district connected to the surrounding development with a great emphasis on the living parterre and the functionality of the individual units of the complex," said jury member Ján Horváth.
The construction of a predominantly residential function is expected (Illustrative photo) / TASR
According to the developer, the new architectural proposal is in accordance with the territorial plan of the zone and takes care of the quality of the public space, maintaining the patency of the territory and supplementing the predominant function of housing with an appropriate mix of shops, services and civic amenities.
"They will be located in the lively parterre along Watsonova Street and in the area towards Festival Square," added Horváth.
The city of Košice and the investor signed a memorandum last November, in which the developer agreed to implement the proposed investments. They mainly concern the construction of new roads and the reconstruction of current intersections. The construction of apartments, commercial or administrative premises within the planned multifunctional complex should begin in 2023. At the end of last year, the developer estimated his investment in the mentioned location at approximately 70 million euros.