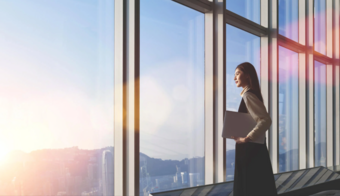 The latest survey by the global real estate consulting company CBRE among respondents in Central Europe showed how developers, property owners and their tenants approach these changes and needs. These are the most interesting findings, the company informs in a press release.
Lack of green buildings
According to experts, developers, building owners and their tenants should focus in more detail on the entire optimization of the building portfolio, i.e. environmental, but also economic and social efficiency. And this also considering that by 2030, buildings will have to meet specific ESG requirements aimed at reducing carbon emissions or the energy performance of the building. According to CBRE experts, the key will be the right cooperation between the investor, the landlord and the tenant.
"Just an open dialogue will be a key aspect in minimizing the risk of buildings becoming outdated and unattractive to the tenants themselves. Tenants will prioritize increasingly used green lease clauses, in the form of a contract or an addendum to an existing one," explains Silvia Bassadin, director of ESG & Sustainability at CBRE.
However, the survey revealed that their ESG goals, priorities or timeframes do not always align. Its results show that tenants want to start fulfilling their ESG goals earlier than building owners and investors themselves. Therefore, CBRE warns that there may be a shortage of such green buildings on the market before the end of this decade. For the optimal achievement of environmental goals, the correct categorization of emissions will also be important, so that it is clear whether they belong to the lessor or the lessee.
They will pay extra for lower energy consumption
The fact is that achieving zero emissions in the operation of buildings is only possible if renewable energy sources are used. If building owners and their tenants want to fulfill their obligations, they must take this fact into account in their strategies. The findings of the CBRE survey indicate that both parties are aware of this fact.
As many as 86 percent of tenants in the process of deciding to rent in the survey mentioned the strategy of reducing energy consumption as a priority. In fact, more than 30 percent of them said that they would completely withdraw from the contract in the absence of such a strategy.
It is also very positive that there is a growing mutual willingness among investors, owners and tenants to pay more for buildings that use renewable energy sources (61 percent), or have invested in smart technologies that reduce the building's carbon emissions. On the part of tenants, there was an increased interest in properties that are more resistant to the consequences of climate change (e.g. floods), 42 percent of them expressed their willingness to pay a higher amount for them.
Companies are also interested in the environment for employees
However, the ESG agenda is not only about environmental aspects. Businesses today focus on a wide range of initiatives to help them meet their ESG goals. They also include aspects such as improving mental and physical health, social mobility and employee equality, or ending cooperation with companies from controversial areas or countries. New properties should reflect these requirements.
The results of the CBRE survey clearly pointed to the traditional goals of organizations, i.e. reducing emissions (87 percent), reducing produced waste (77 percent), reducing the impact on air, water or soil (65 percent).
"However, he also showed that more and more companies are also focusing on social aspects. As many as 76 percent of them said that improving social justice, diversity and equality of employees is important to them. A total of 74 percent also consider the so-called well-being of its employees," concludes Silvia Bassadin, director of ESG&Sustainability, CBRE.