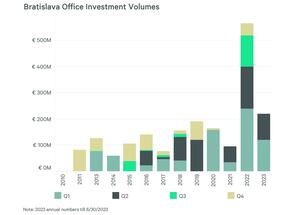 The estimated area that will be delivered to the market in 2023 is 63,000 m2 within three projects, namely Pribinova 34 (17,500 m2), Pribinova 40 (21,000 m2) and The Mill (24,500). In the second quarter of 2023, the total leasing activity recorded a year-on-year increase of 85%, with a total volume of 51,685 m2.
The total leasing activity in the first half of 2023 confirms the increased demand for office space, reaching a 36% year-on-year increase compared to the same period in 2022. The largest part of the activity (46%) was renegotiations, contract extensions. Pre-leases represented 27% of the volume, new leases 21% and expansion only 6%. Almost 60% of the total leasing activity took place in the Central Business District, in the volume of 30,695 m2. From the point of view of the rental industries, transactions in the IT sector with an area of 14,783 m2 dominated. In total, CBRE recorded 4 transactions with an area of more than 1,000 m2.
In total, Bratislava has almost 750,000 m2 of space with a valid green/sustainable building certificate. This is 37% of the total volume of built-up office space in Bratislava or 41 out of 274 buildings. Only two buildings in Bratislava have the highest BREEAM Outstanding rating, namely TwinCityTower and Pradiaren 1900. In the case of the highest rating of the LEED Platinum certification scheme, only one building reaches this level – EinPark Offices.