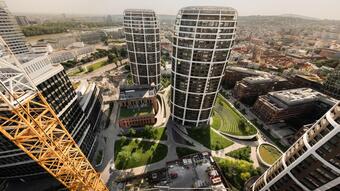 Timeless design, high standards
"We have long been convinced that open architectural competitions with international participation are an opportunity that brings quality and representative architecture to cities. As an investor, we place great emphasis on timeless design, high standards and transparent cooperation. We see this competition as an opportunity to complete the neighborhood, whose architectural quality was largely defined by the SKY PARK project," said Alto Real Estate CEO Rastislav Valovič.
The plots with a total area of almost 15 thousand square meters are located in Bratislava's Old Town, in the Mlynské nivy - Chalupkova zone, in the area between the SKY PARK area and the former temporary bus station. The territory is bordered by Bottova, Továrenská and Chalupkova streets.
Urban solution and design
The task of the contestants is to propose a solution that will support the meaningful urbanism of the city and the SKY PARK district. The new development should not only expand and connect the existing green park, but also integrate the city together with the SKY PARK and the emerging development in the vicinity. The urban solution and design should, on the one hand, complement SKY PARK and the wider surroundings, but at the same time offer a new perspective and own identity. The new construction that will be built on the land will be a combination of housing, offices and civic amenities with a dominant share of the residential function.
The international architectural competition is designed as a two-round competition. Architects, architectural offices and teams with experience in projects of a similar scale can participate. In the first round, the jury will select seven finalists from among invited and self-registered studios and collectives, who will elaborate their original proposals in more detail for the second round.
The deadline for submission of proposals in the first round is November 16, 2023. Participants who advance to the second round will have time to submit their proposals until January 31, 2024. The evaluation will be carried out by an international jury composed of investor representatives and experts, such as Jim Heverin, Director Zaha Hadid Architects, Dutch architect and urban planner Kees Christiaanse from KCAP or Swedish landscape architect Martin Arfalk from Mandaworks.