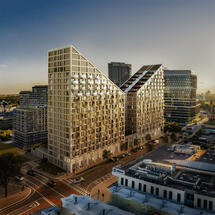 Modern apartments and offices in this location will be complemented by a new residential project by the experienced investor MINT INVESTMENTS, known mainly for its activities in Prague and the Czech Republic.
He followed up on the long-term vision of the city of Bratislava, which is the creation of a modern city center, providing its inhabitants with a combination of housing, services and administration.
It is to bring pleasant shades of warm colors and natural materials to the zone of the new "downtown", writes the real estate magazine Herrys, which mediated the sale of the project to the developer.
The Prague architectural studio City Work Architects, which is behind the project, emphasizes the original expression of the entire project and involves a lot of greenery in the project.
Introduced in 2017
The project was first presented in 2017. At that time, the investor presented a vision for the construction of a pair of multifunctional towers with 18 and 16 floors, which would fill the land on the corner of Bottova and Chalupková streets, writes the architectural portal Yimba.
source: Mint Investments
The buildings are particularly interesting in shape, above the twelfth floor the roof of the inner part of the building begins to mow and meets only on the top floor. These two will bring considerable diversity to the almost flat buildings around Mlynské Níve.
Source:// Index.sme