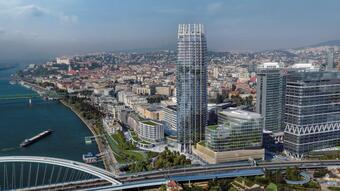 With the expansion of the original Eurovea project, the investor J&T Real Estate has the ambition to create an ideal place for living and relaxing in the center of Bratislava. The new phase of the Eurovea 2 project will be dominated by the first Slovak skyscraper Eurovea Tower with a height of 168 meters – an elegant structure with sweet curves, emphasized by the play of shadows on the facade during the day and impressive illumination at night. However, the project also includes other unique architectural works that fit into the humane urbanism of the Spanish architect Beth Galí.
Necessary technologies
In addition to apartments, offices and shops, the new quarter of the city will also bring parks, squares, sports fields and public spaces. However, the ambitious development project will also stand out from the point of view of energy efficiency and safety, which will be taken care of by J&T Real Estate's long-term partner, Siemens, with the Smart Infrastructure Regional Solutions & Services (Siemens REU) team.
"In the past, we supplied J&T Real Estate with measurement and regulation systems to ensure the energy efficiency of operating building technologies, electric fire alarm and voice fire alarm systems, as well as access control systems for, for example, the Grand Hotel Kempinski, Zuckermandel, or the River Park, Klingerka projects and many others" says Rastislav Mihalík, director of Siemens REU in Slovakia. "However, Eurovea 2 is undoubtedly JTRE's most ambitious project to date and we are proud to be a part of it," he adds.
The heart of buildings
The centerpiece of the energy efficiency solution of the Eurovea 2 project is the Desigo CC system, which allows automating the operation of buildings while maintaining the maximum level of user comfort and safety. The system stands out for its openness, which means it supports a number of subsystems and communication protocols, thanks to which it is compatible with practically all technologies in buildings.
"Desigo CC enables the integration of a range of open standards and proprietary protocols, thanks to which the platform can be easily connected to systems for measurement and regulation of ventilation, heating, cooling technologies, individual spatial regulation, lighting, shading, electric fire alarm, access and camera system, possibly also elevators or charging stations for electric cars," explains R. Mihalík from Siemens REU.
It wouldn't be possible without data
In the Eurovea 2 project, dozens of Desigo PXC control stations in combination with hundreds of room spatial controllers for controlling the internal temperature ensure that the temperature in all office spaces is optimally comfortable and that the heating, ventilation and air conditioning (HVAC) technologies always run as economically and efficiently as possible.
Siemens also supplies the Sinteso fire protection system for Euroveu 2, which consists of 12 control units, 5,572 automatic detectors and 770 manual detectors. All technologies will be connected to five Desigo CC dispatch control stations for easy access to data and monitoring of various parameters, energy consumption, or alarm conditions.
A proven partner
During the implementation of the Eurovea 2 project, JTRE gave space to stable companies and proven partners, stresses the developer's project manager Ľuboš Kaštan.
"One of them was the Siemens company, which established itself on our previous projects and assembled an experienced and professional team, which was ready to come up with effective solutions for modern technologies so that they communicate optimally with each other and work reliably. The project is still in the implementation phase and we are happy that despite the challenging conditions on the Slovak market, we are able to provide a healthy and safe space for future users with our suppliers," he adds.
The Eurovea 2 project, with an area of ​​47,000 m2 for housing, 44,000 m2 of office space and 25,000 m2 of commercial space, promises to be an ideal place for shopping, entertainment, living and working after completion in late 2023, but also a prime example of how technologically advanced today buildings can be.
Siemens specialists continue to face challenges in adapting their solutions for the requirements of multifunctionality of some spaces, R. Mihalík is convinced of the final success of the project.
"An important milestone was to bring the customer modern and progressive solutions within the framework of the tender. A project of such dimensions is very prestigious and attracted a lot of interest, so the competition was strong. I am glad that we successfully took up the challenge and were able to succeed with our technical solutions. Our task now is to ensure that Eurovea 2 shines, so to speak, not only from an architectural point of view, but also from a technological point of view," he concludes.