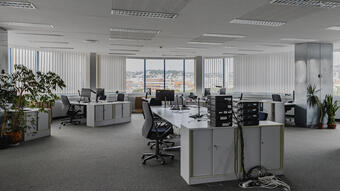 Record year
The current situation in the field of investment in commercial real estate shows that this segment is extremely resistant. "The total volume of investments in Slovakia increased by 48 percent year-on-year. We assume that in 2022 we will exceed the volume of 1 billion euros invested in Slovak commercial real estate. In terms of sectors, we record an increase in 2021 primarily in logistics and retail real estate, but other segments are also doing well, and demand for office real estate should also increase this year, "described Ľubor Procházka, the company's sales director.
Last year was also a record for the Slovak office market and the total rental volume climbed to almost 240,000 square meters (m2). "Rising demand for office space is also confirmed by the low rate of renegotiated m2, which represents only 32 percent, while the average for the last 5 years is 42 percent. The vacancy rate at the end of 2021 was at 11.7 percent, but in 2022 we expect a further decline. The highest achievable rent remains stable at 17 euros per m2, "said Oliver Galata, director of office rental.
Pre-pandemic level
The retail real estate segment also reports positive news. He was the most dominant in the capital markets last year. "In 2022, we expect the turnover and attendance of shopping centers to reach a pre-pandemic level, as the summer months of 2021 showed high performance in these indicators and surpassed those of 2019," continued Tomáš Lörincz, director of retail space.
According to the company, the volume of investments in logistics real estate will remain high in 2022 and, thanks to growing demand from tenants, they will continue to be preferred by investors. The volume invested in logistics real estate in Slovakia has been growing continuously since 2018, with the average year-on-year increase over the last three years being 20 percent.
Third party logistics
"In terms of leased m2, the most dominant were 3PL tenants (third-party logistics), which accounted for up to 45 percent, the automotive sector accounted for 20 percent. Across Slovakia, another almost 200,000 m2 of A-standard space was built last year, and at the end of the year, approximately 400,000 m2 of new space was under construction. This year, we expect increased interest from companies in the Internet sales sector, "added Michal Cerulík, the company's director of industrial and logistics space leasing.