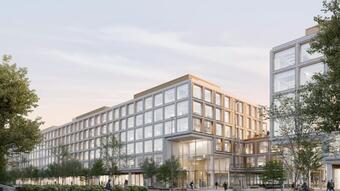 The project comes from the workshop of the prestigious Danish studio Schmidt Hammer Lassen. It is known for creating a wide range of architectural designs, including the most recognized cultural monuments in the world.
With an area of ​​more than 40,000 square meters, it will be the largest and at the same time the most sustainable administrative complex in Slovenia.
The Bratislava Einpark helped
Corwin's regional manager Michal Maca said the project reflected the company's and city's philosophy. "Ljubljana is one of the 'greenest' capitals in Europe. The emphasis on sustainability is one of their main priorities. The city was therefore impressed by our design, which is modern, energy efficient and will become a representative icon of the city center, "said M. Maco.
According to him, the Bratislava project Einpark Offices, which is the greenest administrative building in Slovakia and holder of the LEED Platinum certification, also played a role. They plan to apply the same approach and technologies to Vilharia.