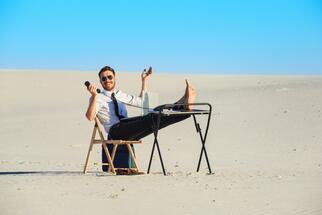 AIR CONDITIONING INCREASES PRODUCTIVITY
According to Tomáš Zadák, CEO of digital and branding agency Ler Studio, the temperature in offices has a major impact on team productivity. Based on experience from different seasons, they realized that working in air-conditioned spaces in summer increases efficiency by up to 40% compared to higher temperatures above 26 °C. This difference in productivity is common and is taken into account during periods of lower demand. Although they work at a leisurely pace and without stress, a regular air-conditioned office environment with external blinds and are the key to maintaining the work flow. The team also likes to relax like sitting in the park or having a barbecue by the pool. He uses his free time for brainstorming and improving processes.
SUMMER JOY VS. WORK EFFORT
Tomáš Vacek, a partner of the advertising agency Contexto, emphasizes that, like any other individual, he also has the desire to enjoy the summer to the fullest, enjoy traveling and all the other joys that come with this period. Despite this, he remains faithful to his work procedure, which is not modified in any way under the influence of high temperatures. He can work efficiently even on hot days and is open to using air conditioning if the situation requires it.
FLEXIBILITY, BEACH AND CREATIVITY
According to Ondrej Tyleček, general director of the creative agency Fairy Tailors, the advertising business does not know cucumber season, so even in the summer they work with unprecedented energy. A key feature is flexibility with clients, when project dates are aligned with their vacations. However, independence is also on the agenda – during the summer months, some employees work from the beach or their RVs. Above-average personal accountability and powerful project management and communication applications are key to successful projects in this mode. In order to be fit for work, they take care of a sufficient supply of fluids, a light diet and planning work for time zones with less sunlight - in the morning and later in the evening.
THE ART OF SUMMER BALANCE
Jan Večerka, founder and CEO of the BrikkApp crowdfunding platform, enjoys the long summer days as a passionate road cyclist, which allow him to combine work duties with sports activities. Ján not only keeps up with all the work tasks, but also has time for training before or after work, both as a cyclist and as a father of two children, with whom he can spend time on the playground. From a work point of view, the summer months do not mean restrictions in an air-conditioned office for him. On the contrary, he uses the time when many partners and colleagues are resting for planning, conceptual tasks and catching up. The summer family vacation is then an important way for Ján to gain new energy for the coming months of work.
SUMMER AS AN ENGINE OF PRODUCTIVITY
According to Jana Večerková, founder and director of intensive programming courses at Coding Bootcamp Prague, the heat in summer has a positive effect on her productivity. A simpler choice of clothes and pleasant light outside allow her to focus on her work more effectively. The length of the day also plays an important role, especially for activities before and after work hours. Planned vacations then add structure and minimize the tendency to put tasks off for later. Jana also emphasizes that in higher temperatures an air-conditioned office is not a problem, but the topic of optimal temperature is a frequent point of debate with colleagues. For her, the holiday season means an opportunity to focus on strategic planning and conceptual tasks, for which there is often not as much time in the normal rush.
WELL-BEING IS INEVITABLE
Michal Hotmar from the RIM company believes that the summer months are intended for rest and gaining new energy. The weather outside plays an important role in work performance. High temperatures can make it difficult to concentrate and focus on work, while cloudy and rainy days can cause fatigue. Michal emphasizes that taking care of well-being in the office is essential. In addition, taking a vacation can slow down decision-making processes because colleagues are not always available. Michal adjusts his work schedule so that he comes to work an hour or two earlier to avoid the afternoon heat. This ensures a calmer and more focused environment for work. However, they try to keep other work rituals unchanged.