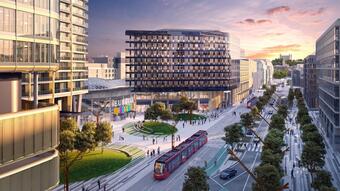 The expansion work, which is already underway, will add 25,000 sqm to the Eurovea Galleria shopping center, bringing its area up to 85,000 sqm. The first Primark fashion store in Slovakia is to open in the extension. The loan will also include the construction of the Pribinova X office building, which is to have 18,000 sqm of leasable space. All the work in this stage is to meet the requirements of BREEAM 'Excellent' certification.
Despite over twelve months of pandemic-related restrictions, the Eurovea extension project is proceeding on schedule. Getting such key financing during the current difficult situation shows that our confidence in the project – following society's return to business as usual – is also shared by the banks.
Peter Korbačka, the chairman of the board of Eurovea
Dentons prepared the contract documentation for the construction loan.
Construction work on the Eurovea 2 extension project began in December 2019. It also includes the 168m Eurovea Tower residential skyscraper, two other residential projects (Riverside Park and Riverside Promenade) and the Pribinova Y office building. Along with the extension to the mall, 47,000 sqm of residential space (around 500 apartments – around 80 pt of which have already been sold) and 44,000 sqm of offices are to be built, as well as a riverside promenade.
The buildings are scheduled for completion in 2022 and 2023. JTRE bought Eurovea from Irish developer Ballymore for EUR 364 mln in 2014. The company also received a EUR 105 mln syndicated loan from VÚB banka and UniCredit Bank for the project late last year.
Source:// Eurobuild