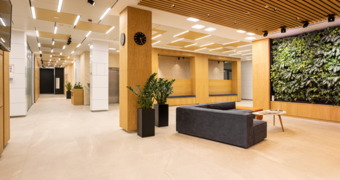 The aim of the construction was to use the formerly unused car park for the construction of a modern administrative and commercial complex Bastion Office Center. Since the project stands on the site behind the former city fortifications, its name Bastion is also derived from the word bastion. The urban design of the building was given by the type of surrounding development - it was a gap that needed to be filled.
The architects thus created two main four-storey street tracts - on Továrenská and Hviezdoslavova streets. Perpendicular to them are mounted three five-storey transverse wings (symbolic reference to the ancient development of three houses), which imaginatively levitate above the ground floor.
Three atriums were designed in the building, which provide daylight even in the depth of the layout.
Internal layout
Internal roads are connected to two main communication cores, which pass through all 9 floors, of which six are above ground. The ground floor is intended for shops and services with a reception connected to the passage that connects Hviezdoslavova and Továrenská streets. Leasable spaces on other floors are intended for administration.