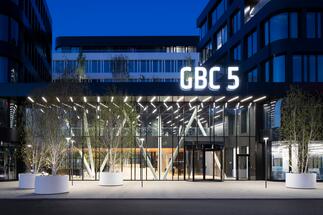 GBC 5 is an administrative building that, with its dynamic facade and changing window tectonics, responds parametrically to light conditions and orientation to the cardinal points.
With wide panoramic views of the slopes of the Carpathians and the north of Bratislava, dense vertical sunbreaks on the south side and longitudinal east and west facades with changing geometry of perforations, as well as irregular facade atriums with greenery, the architects tried to bring change and original design to suburban urbanism.
The block form of the administrative complex in the shape of the letter C respects the construction layout of the land, light and technical conditions, the construction economy and today's technological trends in the solution of office buildings. The operational dispositions of the variable rentable spaces allowed the architects to apply individualized solutions for operation, circulation and office design.
"Precisely because of its ability to absorb any changes inside, the building does not have a distinct hierarchy within itself - it is universal, but not boring or uniform. Even the greenery in the form of atriums is "democratically" distributed along the facades so that everyone benefits from it," explains architect Tomáš Šebo.