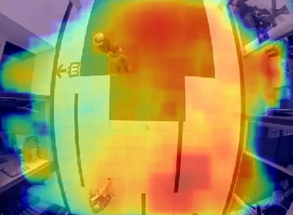 Artificial intelligence can greatly help those who care about their visitors, customers and the movement of people in buildings. Small intelligent sensors that detect and evaluate the movement below are sufficient. "With the help of artificial intelligence, the sensor recognizes and detects objects or persons and evaluates their movement and number. Artificial intelligence, represented by a so-called neural network, replaces the function of the human eye and works on the principle of machine learning - we teach the system to learn and notice what is currently to be monitored," says Filip Naiser, head of development and co-founder of iC Systems.ai. which supplies sensors to office buildings, shopping centers, shops or industrial buildings and public transport.
The growth in demand for intelligent people counting also stems from the wave of COVID 19. The sensors enabled significant savings for larger establishments that had to limit the number of customers with additional workforce. A tool intended primarily for the marketing purposes of stores, which analyzes the movement of customers and segments them according to given parameters, has shown that the possibilities of its use are much greater.
In the retail sector, smart sensors can collect real-time traffic data, determine which items customers linger on, or learn customer demographics to better target advertising. In buildings in general, intelligent people counting helps prevent overcrowding and allows for better room occupancy planning. It detects where queues form, can reduce them, makes traffic more efficient, allows staff to better plan shifts depending on the number of visitors and helps save costs for air conditioning or heating when occupancy is low. Similarly, he can oversee regular cleaning depending on the occupancy of rooms or toilets.
CLEANING WITH ARTIFICIAL INTELLIGENCE
The cleaning sector itself is increasingly driven by advanced technologies. Intelligent cleaning robots are used, for example, by ABI Special, which provides integrated facility management services. "The robot contains several sensors, perceives its surroundings and can handle large surfaces, avoid obstacles and prevent collisions. It can also be integrated with an elevator and the robot can then clean several floors without human intervention. A cleaning report is used to monitor the work, which can be viewed through the application. The bot can also send SMS or emails about notifications and activity. The device is designed to behave ecologically. Thanks to filtration, it can save up to 70% of water compared to regular mopping. On average, it is possible to save up to 3,500 liters per month on large areas," explains Libor Svoboda, operations director of ABIS.
FROM BUILDINGS TO ELECTRIC POWER PLANTS
The range of applications of intelligent sensors for counting and analyzing people's movements is expanding. In addition to buildings, these solutions can also help in public transport. "They will easily help to find out which parts of the route are overcrowded in the bus or tram, at what times it is necessary to consider strengthening the connections, and in general they will help to increase the comfort of transport in cities," adds Naiser from the company IC Systems, who as a doctoral student at Czech Technical University is also devoted to machine learning and vision. He achieved success in the field of research and business already as a high school student, when he launched his own Eye-Controlled Cursor project (software for controlling a computer only with the eyes), for which he won a gold medal at the I-SWEEEP competition in Houston in 2010 and a silver medal at the Intel ISEF in Los Angeles in 2011. His company IC Systems delivers its smart solutions to shopping centers, offices and industrial enterprises. He is currently installing them in selected stores of clothing chains.