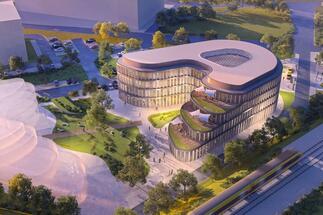 Specifically, in the neighborhood of the heavily used railway line that leads to the main station and the Bratislava-Vinohrady railway station. The Nové Mesto local authority authorized the construction in the fall of this year.
The construction of administrative buildings near the station is not new in Bratislava, earlier office buildings stood near the Bratislava-Petržalka railway station.
Continuation of Lakeside Park
Innovatrics does business on several continents, and since mid-October of this year, the company's headquarters have been in Bratislava on two floors in the Lakeside Park 2 building, approved this year, near the Nové Mesto line and railway station. The number of employees in the company is growing and the situation has reached the stage that the company wants to build its own headquarters in the capital.
The Lakeside Park 2 building was built by the developer Immocap and the investment company WOOD & Company, which has the Lakeside Park 3 plan in the environmental impact assessment process since October 2021. The third extension is to bring civic amenities, a commercial parterre and a residential function in two high-rise buildings, creating integrated building block.
Plan The multi-functional complex Tatra Residence (shopping center, residential complex and service facility) has a valid zoning decision from 2012. The future headquarters of the software company will have one underground floor, four above-ground floors and a second technical floor.
The building is approximately U-shaped in floor plan, with rounded irregular edges, the arms of the floors point to the west. The south wing recedes terrace-like across the floors, creating an outdoor area accessible from the interior as a relaxation terrace on each floor.
Sketch of the Innovatrics headquarters building | Source: A.M.Architects
The construction must not endanger the railway body
The proximity of the railway line will affect the construction and operation of the new Innovatrics building, and the builders of Lakeside 1 and 2 had to deal with similar challenges.
Železnice SR pointed out that the construction site encroaches on the protective zone of the tracks. They do not agree with the fact that the owners or users of the building, due to the negative effects of the railway operation, should claim adjustments from ŽSR, because the adverse effects of the operation are already known at the time of the preparation and implementation of the assessed building. The Ministry of Transport and Construction of the Slovak Republic wrote in the statement stated in the building permit that the construction must not threaten or disturb the stability and drainage of the railway body of the tracks.
Innovatrics headquarters, Jurská street, Bratislava-Nové Mesto
Investor: Innovatrics
Architect: A.M.Architects
Number of parking spaces: 51 on the ground
Number of parking spaces: 58 underground
Status: in preparation