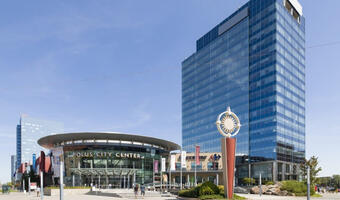 There are several reasons why you should rent an office next to a shopping mall. First of all, you have no problem getting to the place of business, because most shopping centers also have public transport stops or large parking lots. Secondly - just mention the name of a famous department store, and you are already well visible! Shopping centers will serve as points of reference, thanks to which your clients will always find you easily, even if they do not know each other in the big city. And last but not least, you have the opportunity to take care of yourself and your family in the immediate vicinity of your office before or after work. You have a hairdresser, groceries, a bank, a pharmacy, everything in one place, so you save time and you can then run home immediately. Even if you need to run to the bank, post office or business lunch during the working day, you will be pleased with the office next to the department store.
They have vacant offices for rent here
In the New Town on Vajnorská, pay attention to the building Tower I. Yes, it is huge - as your expectations. Just boldly, the smallest vacant office has an area of ​​150 m2 and is located on one of the 18 floors. The myhive Tower I office building is part of the VIVO! Bratislava, which brings you many opportunities to spend free time. Park every day in the underground car park and enjoy an efficient, tailor-made space layout.
In Petržalka you will find the same "giant". The Einstein Business Center building was completed in 2018 and currently offers an office with a small area of ​​590 m2. In this business zone there is a shopping center Aupark Tower or Digital Tower I, II, III. What will attract offices for rent? This is the so-called green offices, ie not only environmentally friendly, but also your mental well-being. Sunlit areas give you plenty of appetite for work day in and day out.
We will also go to the popular town of Ružinov. The offices in Nivy Tower are applying for your support here. It is a young building completed in 2020 with the smallest office area of ​​250 m2. In its vicinity you will find services from the invention of the world, but you will be particularly interested in the location. The business center is located at a bus station of international importance and at the Nivy Mall. They will come to you not only from any part of the city, but also from Slovakia. The project includes a green roof on the Nivy Mall, the size of two football pitches, which can be used as a cross-country ski run in winter. In the future, it is planned to create a barbecue zone, gardens or petanque court on the roof. It's something that will make your place of business a lucrative place to work. So doing business at one of the well-known outlets is really worthwhile.