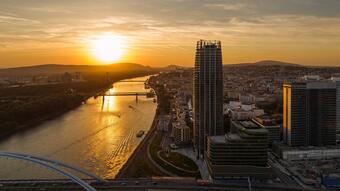 46-floor Eurovea Tower is the last part of expansion of the popular waterfront area, which includes the extended Eurovea shopping centre, Pribinova 34 and Pribinova 40 office buildings, Riverside waterfront residences, and large public spaces. Designed by GFI architectural studio, 168-metre Eurovea Tower is already a distinctive sight on Bratislava's skyline.
"Combining mixed functions with attractive public spaces has made Eurovea one of Bratislava's liveliest go-to destinations, and we aimed to build on that atmosphere. Our vision was to create a high-quality urban space in this fast-growing part of the city - with numerous leisure opportunities and free-time activities. This vision is becoming a reality and Eurovea City is already brimming with life."
Pavel Pelikán, JTRE's executive director
The first Slovak skyscraper Eurovea Tower is the pinnacle of this effort and has become city's new landmark. "It is unique in Slovakia. It has challenged JTRE and our partners towards attaining new knowledge and gaining a wealth of experience. I thank the team led by project manager Ľuboš Kaštan, the architects and designers, and all the contractors and workers engaged in this project," he added.
"We and our suppliers met all the challenges of such an exceptional project. And I'm proud of that. The over five years' preparation and construction was a big ask – yet the experience has paid dividends and Bratislava has gained a new landmark."
Ľuboš Kaštan, JTRE's project manager
The main contractor was a strong and experienced partner, STRABAG Civil and Engineering Construction, supported by Sytiq and Adifex. Process management on-site and supplier-to-supplier communication was ensured by Gleeds.
Construction progress was closely followed by both professionals and the general public via a digital display showing the currently built floor. Award-winning director Jaroslav Vojtek led a behind-the-scenes documentary about the building, which will be released next year.
The skyscraper's residences have generated very high interest: 90% of the 408 homes have been sold, while over 30 apartments with unique views are being prepared for sale. In the last apartments sold, Standard fittings are being installed for homeowners in sold properties.
"We've saved the very best for last: exceptional penthouses that represent the premium offer of the Bratislava real estate market. Such residences will be available on four floors, including the highest 44th and 45th."
Ivan Bratko, JTRE's director of residential real estate sales
EUROVEA TOWER
46 floors
168 metres
408 residences
8 lifts (6 metres/second)
215.5 metres from foot of pile to the aviation light
4,364 windows
193 km of pipes
498 km of cables
14.5 Olympic swimming pools of concrete (i.e. equivalent to approx. one million people)
293 m highest floor terrace (i.e. one meter higher than the Slavín memorial soldier's star)
CONSTRUCTION:
March 2019 - preparatory work - construction pit 300 x 100 metres wide and 14 metres deep
December 2019 - building permit, drilling starts of almost 1,400 foundation piles
March 2020 - selected general construction contractors VHS-PS, s.r.o., EUROVEA 2-STRABAG Pozemné a injinerske stavitelstvo s.r.o., and SYTIQ a.s.
May 2020 - first crane, + 14 more
September 2020 - concreting of 3-metre skyscraper base plate
February 2021 - completion underground floors, buildings take shape
June 2022 - Eurovea Tower becomes tallest building in Slovakia (with more floors to come)
September 2022 – building reaches 150-metres i.e. a skyscraper
30 November 2022 - Eurovea Tower topped out at 168 metres
October 2023 – usage approval issued
EUROVEA PROJECT 2
Expansion of shopping centre - 25,000 m2 commercial space (together with current 85,000 m2)
Eurovea Tower - 46 floors, 168 metres, 407 residences
Eurovea Riverside - 8 floors, 97 residences
Pribinova 34 - 18,000 m2 leasable office and retail space, BREEAM Excellent certificate
Pribinova 40 - 22,000 m2 leasable office and retail space, BREEAM Outstanding certificate
Underground and above-ground parking – 2,245 spaces
Extension of Danube Promenade to almost 1 km - 25,000 m2 waterfront park, square with Octahedral Body artwork, new sports fields and playgrounds
Municipal Pribinova boulevard with new Eurovea Tower square and new leafy avenue
Completion – 2023