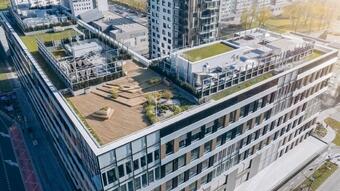 Motivating work environment
In the building, Softec will belong to less than two floors connected by an internal staircase, which is more than 2,500 m2. Martin Melišek, Director of the Economics and Operations Division at Softec Group, emphasized that the reason for the decision was an effort to improve the work environment and bring further impetus to teamwork. The move confirms that offices are still important during a coronavirus pandemic, but their use is changing. In the new premises, the company envisages a hybrid regime, which includes work from the office and from home and the sharing of jobs in the workplace.
"The leased space together with the central space will be used for informal meetings of employees, which reflects their needs for relaxation as well as intensive cooperation. This also corresponds to the fact that in the new financial year we plan to increase investments in the development of innovations and services by 100 percent, "explained Melišek.
Green roofs
The building is environmentally friendly in terms of energy and water. Green roofs help retain dust, dirt or moisture. In addition, they capture rainwater, reduce noise, produce oxygen, improve the surrounding climate and help the ambient air.
According to the developer, Einpark Offices is one of the top projects in the world in terms of sustainability and human health. Its position as the greenest building was also confirmed by the Leading Green Building Development of the Year 2020 award, which it received from the CIJ Awards in March.
In Einpark, there is also a non-traditional technology focused on monitoring the concentration of CO2, which not only effectively ventilates and protects health, but also saves energy costs. A double façade is also used, which increases sound and thermal comfort, as well as passive ceiling cooling, thanks to which it is not necessary to use air conditioning in the premises. Part of the enviro access is the location of the building directly on the bike path.
Employees also participated
The added value of the solution for Softec is also the fact that the final appearance of the premises could be influenced by employees. A working group of employee representatives was set up, which continuously focused on some elements of the interior, such as the openness of the space or the type of furniture so that in the end the workspace would meet their requirements as much as possible and thus contribute to a pleasant atmosphere in the workplace. The company thus continues the development strategy, which it started two years ago, when it also moved to one of the greenest buildings in the Czech Republic in Prague, to City Element in Pankrác in Prague.
Einpark Offices is located with a view of Bratislava's landmarks from the offices and from the roof terrace. There are areas for cyclists or charging stands to facilitate electromobility. Companies such as Mercedes Benz, Baiersdorf, ERNI and McDonald's have previously chosen the building as their headquarters.
Source: // Reality Trend