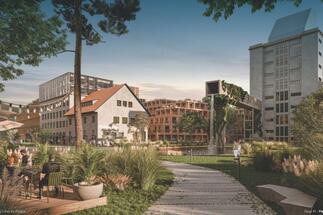 The basic elements of the whole project are the effort to return the block of buildings, taking into account the currently valid regulations, human scale without high-rise buildings, the preference of pedestrians and cyclists, or the division of the area into a livelier and quiet part.
Corwin confirmed its intention to preserve several original buildings, including the dominant feature of the entire area - the former silo. At the same time, he does not give up the idea of ​​building the first multi-storey wooden office building in Slovakia in Palma.
In the creation process, the developer would like to use certified wood from sustainable forestry. This intention will make it more expensive than a reinforced concrete structure. As a result, Palma's entire environment is focused on those who are not indifferent to ecology and sustainability, and are willing to pay for it.
According to the ideas, an open area with plenty of public space should bring to the site several services that are currently missing in it. And rain gardens and a water feature shouldn't be missing either.
The developer prefers smaller operations such as cafes, restaurants, hairdressers and pharmacies. However, it does not forget about public services such as kindergarten, housing for the elderly with appropriate facilities or premises for medical facilities.
"Our goal is to turn the neglected brownfield into a new local center for the northern part of Bratislava. We want to bring to this area a suitable mix of various functions from work, through trade, services to housing. And so that this district "lives" in the morning, during the day and in the evening. Not to be a Bratislava "bedroom", which is the case of Petržalka. But not even the "study" to which the so-called new downtown, "Filip Gulan, Deputy Project Development Manager, told Asb.sk last August.