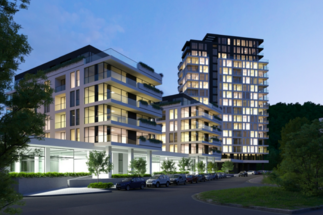 In total, the buildings should have 119 apartments with different numbers of rooms and different sizes. The investor plans to start construction in September next year, or from the validity of the building permit. The expected date of completion of construction and start of operation is March 2024.
Different home solutions
The multifunctional house ABC consisting of three blocks is designed as a five-storey house with a receding sixth floor and three underground floors, in which parking and home furnishings are addressed.
Multifunctional house V is designed as a 16-storey house with a receding 17 floors with one underground floor intended for parking. A total of 282 parking spaces have been proposed for the houses, of which 271 are in the underground garage.
Development plans throughout Slovakia
The Profinex development group has been based in Banská Bystrica since 2000 and operates in several European countries. In the past, Profinex also implemented the nearby Kaufland shopping center and has long been developing, for example, the Pršianska terasa residential area.
They are also currently working on the transformation of the dilapidated building of the former Prior department store in the Radvaň district of Banská Bystrica, which is to be transformed into a multifunctional civic amenity building with a predominance of commercial operations and office space.
In addition to the domestic region, the company is also involved in other parts of Slovakia, and its project for the reconstruction of the Miletičova 60 Multifunctional Building in Ružinov, Bratislava, was successful.
Source: // ASB