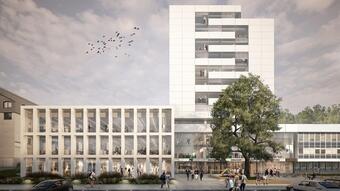 Intelligent ventilation system
According to the media developer, the Interpolis Office Center is located in the central city zone with transport accessibility, near the train station and the exit to the R1 expressway. Nearby is the city hall and the headquarters of several major companies and other services. The project with 8,200 square meters of leasable area has a parking house, a charging station for electric cars, a restaurant, bicycle stations, a chill out zone, changing rooms, showers and plenty of daylight.
Climbing greenery on the facade
The surroundings of the building are cultivated by landscaping, while the largest existing tree in front of the main entrance has been preserved. Most of the facades of the parking house will be complemented by climbing greenery to make the parking background as unobtrusive as possible. In terms of operation, the administrative premises will be divided according to the requirements of future tenants. There are large offices, smaller standard offices or combinations thereof. In addition to the administration, the Interpolis Office Center will have a restaurant, café and shop on the ground floor, which is also available to the general public.
Source: // Trend