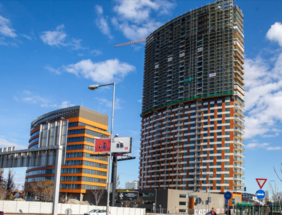 Multifunctional playground
The area of ​​the sports and relaxation part of the area is 5,300 square meters (m2). More than half of the area will be covered with greenery and the rest will be complemented by a centrally equipped playground, an area with workout machines, and a playground for ball games. There will be a bicycle stand at the square in front of the administrative building, said Pavel Pelikán, Executive Director of the developer of the J&T Real Estate (JTRE) project.
The park was designed by the architectural studio GFI. The authors of the entire Klingerka project collaborated with award-winning designers from mmcité, whose products won the Czech Architecture Prize 2020. The aim was an offer that would appeal to the original inhabitants of the Klingerka colony and people from the administration building and especially apartment owners. Klingerky Peter Medľa.
The playground on an area of ​​380 m2 will have two parts. One will be equipped with elements imitating spider webs and the other part will be dominated by swings, weights, a sandpit and an amusement castle with a slide, climbing walls and a rope bridge. In the green area around the playground with an area of ​​470 square meters, comfortable benches for parents or grandparents will be densely populated. Architects installed a playground for ball games and a workout playground on the corner of Súkennícká and Valchárská streets.
Declining buildings
The part of the project implemented so far, together with other recently introduced stages, will complete the panorama of the capital. The individual buildings will create a descending line development along Košická Street with a height dominant in the corner from Přístavná. Public green courtyards with pavilions connect to the Klingerka colony. The buildings are offset from Košická Street so as to create space for a street row of trees. Part of the project is a free corridor for the future tram route, which creates a spatial reserve for the supporting transport system.
Source: // Trend Reality