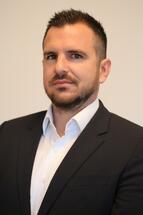 "Michal Kolesár is an experienced expert in the field of commercial real estate and since his appointment we promise to strengthen our role in the areas of design and implementation of office space and consulting in the field of work environment. Michal Kolesár's goal will be to expand the portfolio of our clients and services. We also want to take advantage of the fact that CAPEXUS is a founding member of Studio Alliance, an association that allows multinational companies to rely on the same quality service in 12 European countries, whether they are considering setting up a branch or changing existing premises," says Daniel Matula, CEO of CAPEXUS.
Kolesár (38) joined CAPEXUS after 5 years of experience at CBRE, where he gradually developed from a consultant to the position of Associate Director. At CBRE, Kolesár represented landlords and tenants.
After 5 years in the Prague branch of CAPEXUS, Jakub Seči is moving to Bratislava as Head of Architecture, among others, in the design of offices for Jan Becher Pernod Ricard, Sportisimo, Sev.en Energy and UniCredit Bank. Ing. arch. Jakub Seči is a graduate of Architecture and Civil Engineering at the Czech Technical University in Prague. The goal of Jakub Seči (29) is to address a wider range of clients and promote architecture as one of the services that CAPEXUS provides.
About company
CAPEXUS is a leading player in the market of commercial interiors in Central Europe. For clients using office and retail space, it provides comprehensive design & builds services following the latest trends in the field of architecture, building technology, spatial planning, change management and interior equipment.
More than 100 professionals specializing in architecture, design, workplace consultancy, construction, building technology and turnkey interior delivery have created a new work environment for more than 400 companies in the market over 10 years, from large corporations to young dynamic startups. Every year, CAPEXUS realizes more than 130,000 m2 of space.
Source: // CAPEXUS