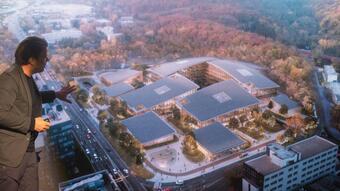 The project with a sober Scandinavian design on 55,000 square meters of built-up area is to be a quality environment for IT and technology companies and startups, which will connect with technically oriented universities.
During the presentation of the conceptual proposal, its CEO Richard Marko stated that the project should be as carbon-neutral as possible. It is based on four main buildings with other smaller ones around the perimeter, a square, a sports complex and an amphitheater, and accommodation for several dozen people, interns and company employees.
Will Sliač Spa come to life after years of decline?
The latest is to help the state spa Sliač, whose condition calls for years after a major renovation and modernization, an architectural competition as a basis for a feasibility study. If the state is a good manager, it has a chance to show that it can start recovery processes. Since 2010, the spa has been drawing the red line of loss to the present.
Last year, 2020, which was fundamentally affected by the coronavirus pandemic, ended the spa with a centuries-old tradition with sales of more than two million euros and a loss of 1.31 million euros. The Ministry of Finance is waiting for a feasibility study, because without it it will not be able to evaluate the project.
He first recommended doing an architectural competition as a basis for a feasibility study. He proposed to finance the competition from the Ministry of Economy by mutual agreement.