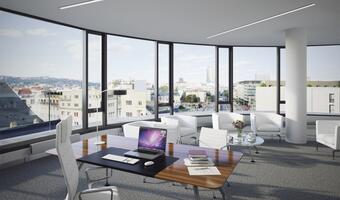 "During the second quarter of 2021, one new office building, Metropolitan Star, was added to the market with a total area of ​​2,734 square meters. By the end of the year, four more Class A projects with a total area of ​​more than 41,000 square meters are waiting to be completed, "says BRF.
The largest transaction
Lease transactions totaled approximately 37,000 square meters in the second quarter of 2021, an approximately 19 percent increase in leased space compared to the same quarter last year.
New leases account for 51 percent, current leases for 43 percent, rent extensions for four percent and pre-leases for two percent of all transactions.
"The largest transaction this quarter is a new contract in the pharmaceutical sector with an area of ​​4,200 square meters, but we are also recording another 11 transactions in an individual area exceeding one thousand square meters," states BRF.
Increased vacancy rate
The overall vacancy rate in Bratislava fell to 12.22 percent from 12.57 percent in the previous quarter.
"The reason for the continuing increase in vacancy is, in addition to the reduction in demand during the pandemic, the completion of several office properties that were not completely pre-leased," BRF explains. The rent (prime rent) remains the same as in the previous quarter, at 16.50 euros per square meter per month.