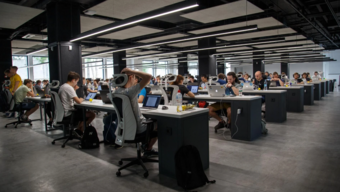 Reorganizations, selection of locations and shorter leases
"Companies are reorganizing their premises in accordance with new requirements, also in connection with the fact that many workers are staying at home offices. The companies we have in our portfolio mostly choose a hybrid model, where part of the employees are mostly at home and go to the office on certain days or certain months," informed Miroslava Sklenárová from J&T Real Estate. In their development company, they have experienced that employers have difficulty getting employees back into the office, as many employees have become accustomed to working from home.
Companies want to motivate employees to return to the office, for example, by choosing office spaces in the vicinity of shopping centers, where they will have access to services and food in the immediate vicinity. Compared to the pre-pandemic years, new clients looking for offices for rent are faced with the fact that clients are only interested in renting for one year or at most two. According to Sklenárová, this situation is due to the fact that companies are waiting to see what happens on the market.
Appearance of the current offices
Dominika Fecková from the company Nowy Styl, which deals with the production of office interiors and furniture, presented the results of the company's survey, where they determined the expectations of clients from their future office spaces. In 82 percent of cases, it is meeting with clients, then meetings with consultants and colleagues (75 percent) or informal meetings in the field of work topics (73 percent).
The main changes in the requirements for furnishing office space include, for example, equipping all meeting rooms with audio-visual technology for effective online-offline meetings, sufficient physical space for the exchange and communication of ideas and information, or the possibility of space to emphasize group belonging, for example in the form of a bulletin board with informal photos of colleagues.