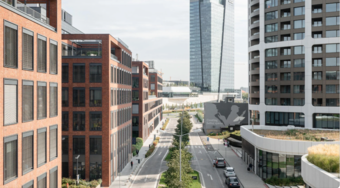 The return to offices is expected to continue as early as this year. There are several reasons. On the employees' side, these are mainly often unsatisfactory working conditions at home, lower visibility in case of interest in career growth, and more demanding induction and training for newcomers. "We see the greatest advantage of working from the office in activities requiring collaboration, joint thinking and social contact. Face-to-face meetings are usually more effective than online meetings. I believe that the future of work is hybrid, and a healthy balance between working from the office and from home is essential to developing company culture and maintaining employee satisfaction. Offices will therefore have their irreplaceable place in the future as well," says Pavla Krauspe, Director of Operations and HR at GoHealth Slovakia. He will also talk about these experiences at the Office of the Year Conference.
Home office reduces productivity
According to studies by scientists from the Massachusetts Institute of Technology and also from the University of California in Los Angeles, workers responsible for entering data into systems when working from home had productivity reduced by up to 18 percentage points. According to them, the reason is the difficult cooperation with colleagues, including the absence of the possibility to turn to a colleague for advice. Scientists therefore also believe that the future of work will be hybrid.
Good accessibility is the most important thing for employees. The return of employees to offices should also be supported by their redesign. Businesses want offices to feel cozier, more open and encourage collaboration and social contact. However, sometimes a redesign is not enough and companies are forced to change their location as well. According to CBRE's European survey, the length of the commute is the most important factor in choosing an employer, after salary and compensation. Accessibility is becoming a key when choosing an office building for companies in Slovakia as well. In addition, quality services directly in the building or nearby are required. Other important criteria increasingly include the sustainability of the building itself, which is important for almost 60% of survey participants.
The good news for investors of the HB Reavis Investment Real Estate Fund is that the premium office buildings of the fund, which are located in the new downtown of the capital, meet all these requirements. "Our office buildings have a green certificate, provide excellent accessibility and all necessary services. As a result, they are occupied at an average of 90%, while leases are mostly concluded for four years," says Jakub Hromada, investment manager of HB Reavis Real Estate Investment Fund. According to real estate experts, demand for A and A+ standard office buildings in Bratislava will remain strong. "We expect these developments to continue to support attractive returns from our fund. Since its establishment almost twelve years ago, we have been able to provide our investors with a total return net of fees of 167.5 percent," adds J. Hromada. You can invest in the fund until the end of September without an entry fee.