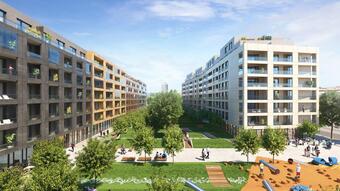 These days, the site is being prepared and should be ready for construction at the end of the week. Simultaneously with the construction of Lucron Development, it is also launching the sale of the second stage.
The authors of the final concept are Compass Architects. Their intention was to revive the public space on both sides of Račianská Street. The project will retain the character of a city street with services and shops from Račianská Street, while on the other side of the apartment building there will be a recreation green zone in the form of a park with an area of ​​6,000 square meters.
Transitional passages connecting Račianska Street with the courtyard and Kukučínova Street will open the residential complex to residents from the neighborhood.
"Neighbors can look forward to a new cultivated environment, shops and services. New sidewalks and a cycle path will be created. Thanks to the passages, the indoor park and playground will also serve the inhabitants of the neighboring houses. The location will get a modern character while maintaining the urban appearance, "says investor's representative Peter Kavecký.
The project consists of three separate apartment buildings: a seven-storey house that will connect Račianska Street, a second house with 7 floors above ground and two recesses, which closes the courtyard. The third of the buildings is designed as a 12-storey point house in the vicinity of the Pri Mýte project.
The investor will provide civic amenities in the form of a restaurant, bistro, cafe or fresh market. Modern details such as a covered bicycle car park, a scooter car park and a charging station for an electric car will also bring a new standard of living.
A novelty, in addition to apartments, is the concept of apartment housing. Short-term rentals for less than 12 months are common and very popular in the West. They serve not only foreigners as temporary housing, but also young people who appreciate the extra paid services associated with the maintenance of the apartment, but also cleaning or laundry.
Source: // Trend