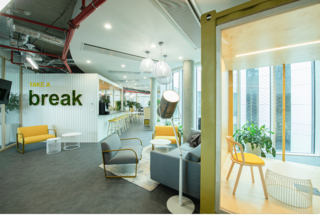 What projects does CAPEXUS currently work on? Has the pandemic significantly affected your development strategy?
Michal Kolesár: We are currently implementing several larger but also smaller projects, especially in the field of office space. At the same time, it is mainly new office space, which indicates that companies continue to see the predominant benefits that office space offers. Therefore, despite the current pandemic situation, we continue to develop our strategy and expand our team.
What surprised you in 2020?
Jakub Seči: At the speed of how changes can be applied, and not only in working life. The companies managed to implement the approaches promoted over the years in record time - digitization, hybrid work, home office or the "activity-based" concept. We also had to improve ourselves in self-management and adaptation to the situation.
What are the trends in workplace interiors?
Jakub Seči: Individual approach and flexibility. At first glance, two conflicting concepts, which, however, manage to be connected. Every new office interior is adapted to the needs of companies, but especially to their employees. There is a stop to work comfort in all directions - privacy, ergonomics, space for concentrated work, but also space for cooperation, brainstorming or socialization. "Well-being" in offices is becoming especially important.
Have you noticed any significant changes in clients' office interior design requirements in the last 12 months in response to the Covid-19 pandemic?
Michal Kolesár: Currently, popular zones in the workplace are. We distinguish between places of mutual meeting, equipment for hybrid cooperation, spaces for creative work, but also quiet zones requiring concentration.
Workplace consultancy is very important before the actual implementation. We will get to know the very functioning of the company, individual departments and create a tailor-made space. As a result, teams that interfere with each other will not sit together. The result of the analysis is not only the number of square meters that the company needs, but above all a very specific basis for the design of the workplace.
How does your office interior design differ from other companies that deal with office interior design on the Slovak market?
Jakub Seči: Our priorities when working with a client include communication. We try to listen to the client, educate him and work towards a perfect result through dialogue. Our design is not just about trends, but mainly about the requirements and possibilities of clients. We use ecological materials, we design enough greenery to make offices a pleasant place not only for work.
Why is the diversity of the workspace so important?
Michal Kolesár: We design offices as an ecosystem. We create zones and we no longer focus on making everyone have their place. "Open space" has been transformed into a very flexible space with telephone booths, places to concentrate, rooms for creative meetings and larger meetings. The flexible layout thus allows employees to move freely within the office and supports the corporate culture. This is more important today than ever before.
Do you think that the quality of office space in Slovakia is increasing?
Jakub Seči: Certainly yes, due to the influence of the media and social networks, employees and companies see world trends in the field of office interiors and in a good way try to follow them. The interior of offices is becoming important in the decisions of future employees and therefore the HR department is also pushing for positive changes.
Work in an office or home office? What way of working do you prefer and why? What do you think about home office?
Jakub Seči: Combination. There are activities that I can do at home - emails, finding inspiration, studying materials or preparing models. On the contrary, I like collaboration and communication with colleagues live in the office. We will solve all together very quickly and efficiently. Having lunch or coffee is a nice distraction.
Michal Kolesár joined CAPEXUS after 6 years of experience from CBRE, where he gradually developed from a consultant to the position of Associate Director. The goal of Michal Kolesár is to ensure the continuous growth of the company, focusing mainly on the quality of implementation and services provided and customer satisfaction.
After 5 years in the Prague branch of CAPEXUS, Jakub Seči moved to Bratislava to the position of Head of Architecture. Ing. arch. Jakub Seči is a graduate of the Department of Architecture and Civil Engineering at the Czech Technical University in Prague. Jakub Seči's goal is to address a wider range of clients and promote architecture as one of the services that CAPEXUS provides.