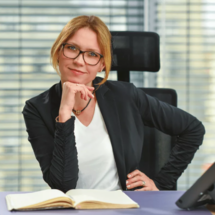 What led you to the idea of creating 5 Star Offices?
Connecting my profession as an experienced salesperson and the hobby I found in interior design. Even as a child, I loved decorating interiors. I collected shoe and appliance boxes, match boxes. We had leftovers of various fabrics at home, because my mother was engaged in custom sewing. So I started pasting boxes and creating the first interiors of houses and apartments.
Did you study interior design?
I had no idea then that it was possible. My father is an economist, I automatically went in the same direction. I enjoyed studying languages, I speak seven of them. For twelve years, I worked for telecommunications, for mobile operators, and on the side of suppliers. As a Sales and Account Manager, I focused on sales and client care. I studied in Warsaw, lived and worked in Vienna, Prague, London, and Florida. After a while, traveling was tiring. I wanted to settle in Slovakia for the sake of my family. And so I created this project, in which I used both my experience and my hobby. I designed and furnished all our spaces. I signed up to study interior design later, in order to verify my work from a professional point of view. I still have a few courses left to complete my studies.
You worked in serviced offices for years. What inspired you?
I spent six years in them. As a client, I knew exactly what I wanted and what I didn't want. The workspace affects our work, and us. We should feel comfortable in it, it should adapt to our needs. The basis is high-quality, designer furniture. The most important are the office chairs, they are among the pieces in which we have invested the most in our offices. We spend the largest part of our working day on them, and it certainly doesn't matter what we sit on. The feeling in the common space in which we move every day is also very important. That is the reason why we devoted a large part of the floor plan to common spaces, even at the expense of offices. We prefer high ceilings and extra-high doors.
And what were you trying to avoid?
To all the negatives that I experienced firsthand. For example, I was exhausted if something took a long time to be approved at the headquarters. If things "were lost in the system". I dreamed of changing it one day. I wanted to do better. To create spaces that will be more pleasant, more personal, more beautiful. Also, where the rule "our client, our master" will still apply. Ten years ago, my dream came true.
Today you have three centers, all on the banks of the Danube. Why there?
I believe that the flow of water brings good and takes away bad and helps business. I have always looked for locations where I myself feel good. With a pleasant atmosphere and beautiful views. Eurovea came fatefully. Exactly when I decided to go for it. We were even the very first tenant there. Our competition did not have centers with such a quality infrastructure that provides all services under one roof. That's why we opened the first two centers right there. Then it was Zuckermandel's turn. Also a building with a lucrative location.
What makes individual centers different?
Every center is different. What distinguishes them is their design and the possibility of concentration. One center is more "Zen", it is dominated by wood, stone and darker colors. The second is fresh, has bright, pastel colors. The third, in Zuckermandl, is more boutique. It is calmer for concentration at work, without the distraction of shopping. We also have different art galleries in each center where we support different authors. Somewhere it is a painting, elsewhere a photograph or glass.
And what unites them?
All our offices offer the top service of a 5* hotel. All of them have high-quality, designer equipment and meet the highest standards of a modern working environment. They are ready for immediate use. Just bring your computer, we'll take care of everything else. There is a strong internet and telephone connection, the services of a personal assistant, a fully equipped kitchen with snacks and drinks. Also a multifunctional device for printing, copying or scanning, as well as office supplies. We are open 24 hours a day, 7 days a week.
How many people can work from your centers?
Our spaces are cleverly divided. They are very flexible and we can satisfy even the most demanding clients. The offices can accommodate 1 to 9 people. 2 to 30 people in meeting rooms. We have enough space for independent concentration, cooperation, discreet phone calls and relaxation.
Is it possible to work with you for a short time? For example, a day or a month?
Of course, we are extremely flexible in this as well. We also offer offices for the day, meetings even for an hour. We have clients who have been with us since the very beginning. They have signed a contract for a year, and they renew it every year. In this way, we give them the possibility of flexibility and at the same time the feeling of a stable background.
Are clients still interested in virtual offices?
Yes, this form of office is still popular. Our clients appreciate not having to negotiate with their business partners in cafes. Moreover, if they need to present something to them, they know that it will be representative here. At a top level and with top technology. We have clients who started with us virtually and then had real offices. But also clients who switched from real offices to virtual ones when their business slowed down.
Are your offices comparable to world centers?
We monitor the competition at home and abroad. In the fall, my colleague and I went to London to see top offices. We went there knowing that we definitely have something to learn from them. However, we were pleasantly surprised. We unabashedly agreed that our shared offices are not only comparable in quality to those in London, but even surpass them. Our 5 Star Offices would certainly be useful in London and would have something to offer even the most demanding clients. The same as in Bratislava.
Is there space for games and entertainment in your premises?
You won't find table footballs, climbing walls, or play stations here. We don't want to keep our clients at work from morning to night, so we don't distract them with such things. I have a family myself. I am convinced that a person should work efficiently at work. To do quality work and then go home, devote yourself to family, friends or hobbies.
What are the current trends in serviced offices?
First of all, they try to adapt to people's daily routines. And people mainly want flexibility. Throughout Europe, you can feel the effort to meet clients as much as possible. To provide them with the best possible service and a pleasant place to work. To be ecological. Some trends have been affected by covid-19. It probably threatened the trend of the increase of popular coworking spaces. According to the JLL Global Future of Work Survey, they accounted for 19% of office space in 2018. It was assumed that this year it will be up to 31%.
How has the pandemic affected your clients' work schedules?
Our 5 Star Offices worked all the time. The spaces were safe and suitable for isolation, for individuals or smaller teams. Of course, we all followed strict hygiene measures, regularly disinfected and cleaned all areas with nanotechnology. We have withdrawn the receptionists from the open space so that their health is not at risk. But they still went to work twice a day to pick up the mail and get everything done. Together with them and my managers, we turned into a "secret service". We provided non-stop 5* service for clients, we were just "invisible". We are proud of how we did it, we are a well-rounded women's team. Today we can say with satisfaction that nothing limits our clients' work. Not even a pandemic.
And how has it affected your business?
It affected us all, including the real estate market. Not all clients have renewed their contracts, others are waiting to see how the situation develops. But at the same time, new clients who are leaving large open spaces are becoming interested in our spaces. Traditional conventional long-term leases need to be replaced by flexibility and transparency. Our isolated offices with fewer people suit just such clients.
Are you planning more such centers in the future?
If our clients do well with us, we will grow together. Of course, we have ideas and plans, we let them mature over time. We are also trying to use the current post-quarantine situation to reach out to new clients. That is why we now offer them the opportunity to test their work from our premises. In addition, with complete 5* service for the whole day for free. Just register on our website www.5star.sk to enjoy our traditional "Enjoy your all-inclusive 5 Star Offices".