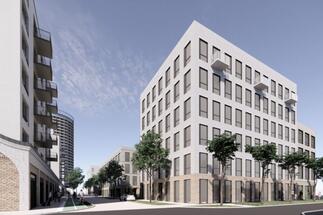 They plan to build a multifunctional complex Acord - Matador in Petržalka, Bratislava, for approximately 10 mil. eur. This follows from the intention submitted by Acord for the EIA environmental impact assessment.
The area is located in the former Matador production area and is bordered by Kopčianská Street, Údernícká Street and Gogoľ Street. The start of construction is planned for the second quarter of 2023 and the end for the third quarter of 2025. The estimated investment costs are 10 mil. eur.
The purpose of the plan is to build a multifunctional complex, which will consist of four buildings located around the perimeter of the area delimited from the southeast by a street on the side of the new Matadorka, northeast and northwest road and surrounding buildings
Location Source: EIA
"The buildings will be designed as section houses with a vertical communication core and leasable spaces of various size categories," says the petitioner, noting that the buildings will be mostly three-storey to four-storey and one six-storey building on the corner of Údernícka Street.
In the inner block of the solved area, the proposer counts on facilities for rest and leisure. The main entrance to the area will be from Údernícka Street. "The transport connection to the Matador zone is also being considered in the future. The plan will also include the revitalization of the relevant roads, "adds the petitioner