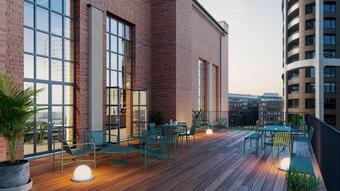 Versatile use of the heating plant
The national cultural monument in the former industrial zone in the wider city center is currently in the final phase of approval. Upon completion, in addition to the offices, there will also be a multifunctional hall, a café, a gallery of modern art, a restaurant, a roof terrace and relaxation zones. The heating plant will also be open to the general public. Its comprehensive reconstruction required almost 12 million euros.
Space for community events
According to Business Development Manager at Penta Real Estate Slovakia Erik Páleš, the building should provide a background for connecting several groups of users - from corporate clients to start-ups, freelancers and students. "Jurkovič's heating plant has all the prerequisites to become a community center within the Sky park project. We believe that with its unique concept, which combined history, modern industrial design and new functions, it will be a great attraction for visitors, "said E. Páleš.
Built-in structures created spaces
The architect Martin Paško and the team of the DF Creative Group, which participated in several reconstructions of industrial monuments, are responsible for the architecture of the adaptation of the heating plant's interior spaces. For example, the award-winning Piešťany Power Plant. The renovation of the building envelope was professionally covered by the Pamarch company, which focuses on the protection, revitalization and reconstruction of monuments. The Prague architectural studio Perspektiv is responsible for the design of flexible BASE offices.
The architectural solution uses the free interior space in the boiler room and in the turbine hall for the construction of new structures. This created new areas and floors. Penta Real Estate approached the reconstruction of the Jurkovič heating plant with maximum regard for its historical value, industrial character and public use.
Construction of the fourth tower in Sky Park
The first three residential towers of the project are completely completed. The market has been enriched by a total of 792 apartments, which are sold out and the properties are already being taken over by the first owners. Penta Real Estate began construction of the fourth residential tower in March this year. The sale of flats is also launched within the fourth tower. At the beginning of this year, the Sky Park Offices office building was completed and approved.
The project also includes the second Sky Park Tower office building, the author of which is also the Zahy Hadid architectural studio. The building is part of the second stage of the project and its construction should begin during 2021. A new city park with an area of ​​more than 30,000 square meters has been created in the area and is open to the public. Developer Penta Real Estate is investing a total of more than 420 million euros in the SKY PARK project.
Source: // Trend Reality